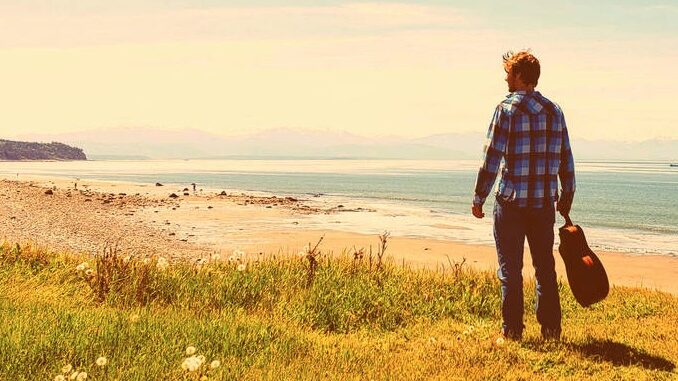 By DOTTIE PARIS
Thorin Loeks has released the album In This Place, but his songs tell of faraway lands and new people you won't meet by remaining sedentary.
It's easy to imagine Canadian singer-songwriter Loeks has been spending the last few years bicycling and canoeing across  North America with a guitar on his back. The music on the album actually sounds like the new experiences he had and has the beat of putting in the miles spanning the distances.
Loeks takes matters into his own hands so to speak, picking up his guitar and playing on the streets, busking to pay for his adventures. During his rides, he discovered countryside, wilderness, towns and many cool people who fueled his unique and dreamy music.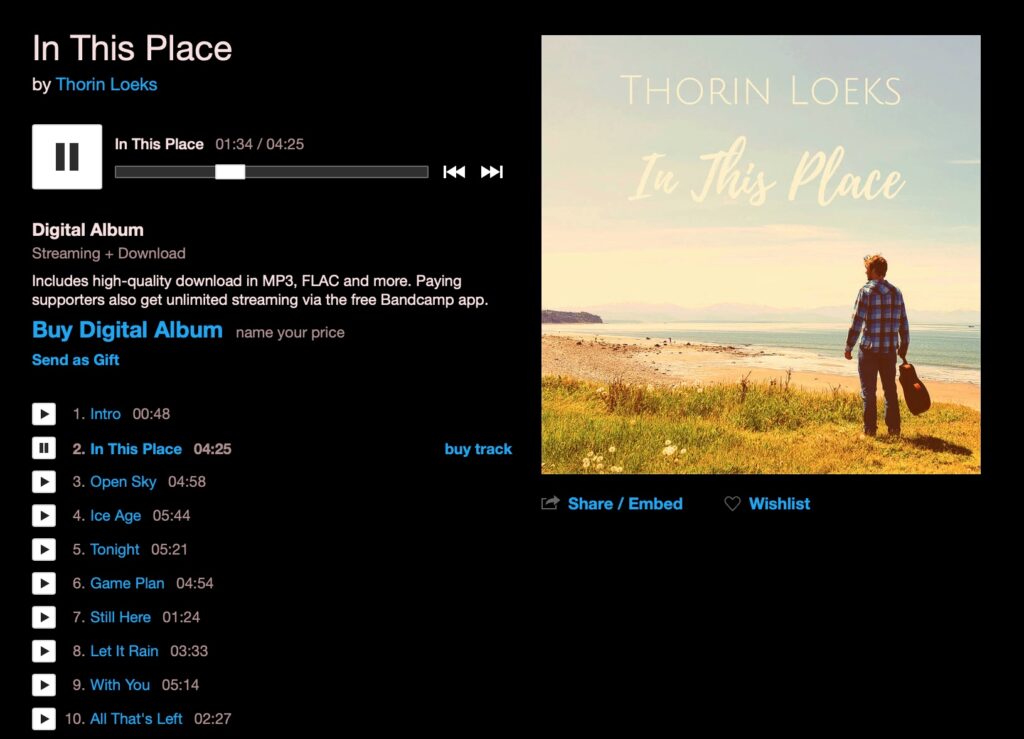 In This Place contains 10 warm tracks, each of which have a unique presentation and capturing a different phase of his journey. "Open Sky" is a robust guitar-leading track with delectible picking and swelling strings; "Tonight" promises the dawn of a new tomorrow drenched in hope; and "With You" raises the question of what could have been. 
Fans of Bryan Ferry will hear a similar vocal style in the Loeks songs. But his voice isn't the only thing put to good use here. Loeks incorporates some of the real sounds of the outdoors, including rain in album-bookender "All That's Left." 
Loeks' bicycle and white water rafting adventures may be finished but his rich songs will endure for years to come.
Additional musicians on the album include Johnson Cheung on violin for "Ice Age" and "With You," and contributing vocals and harmonies are Gert Talberner ("Open Sky"), Theras Wood ("Tonight") and Kaija Loeks ("Game Plan"). Producer is David Tallarico in New West Westminster.
Check out more of Thorin Loeks:
Instagram: https://www.instagram.com/thorloeks/?hl=en
Facebook: https://www.facebook.com/thorinloeks
Spotify: https://open.spotify.com/artist/4wfRlcT3lgS9e6KmN5g96f
Bandcamp: https://thorinloeks.bandcamp.com/
Soundcloud: https://soundcloud.com/thorin–loeks
Youtube Channel: https://www.youtube.com/channel/UClAgJdAIdrCcRXWnYKRU–tg