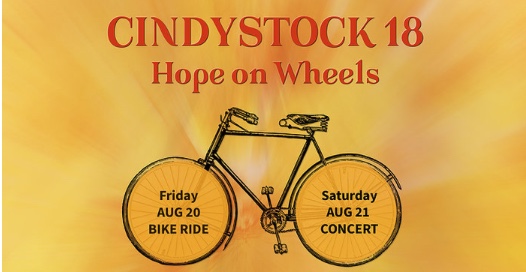 By JOHN DALY
Cindystock 2021 will feature a new event this year called "Hope on Wheels," a bicycle ride intended to raise funds in the fight against cancer.
Hope on Wheels takes place Friday August 20, from 4 PM to 9:30 PM at Helicon Brewery 102 Union Ave, Oakdale, Pennsylvania. 
Hope on Wheels is an exciting extension to Cindystock, the annual music event that brings together fans and Americana performers. The new charity bike ride will raise funds for organizations providing free cancer screening and support services through Yates Fund for Cancer Hope.
Cyclists will have the opportunity to challenge themselves with four different round trip distances along the Panhandle Trail (west through Washington County to the West Virginia line).
Riders will be able to choose between The 10 Commandments Ride (10 miles) the 21st Amendment Ride (21 miles) the 30 Something Ride (31 miles) and the Almost Heaven Ride (40.6 miles) to the WV State Line. 
There will be a staggered start on Friday, Aug 20 beginning at Helicon Brewery at 4:00. Riders should estimate their total time so that rides are completed before 7:30 PM.
Riders must raise a minimum of $35 to participate. Solicit your friends and family for support and invite them to join the ride by signing up here. Riders raising $100 or more will get a Hope on Wheels T-shirt and be eligible for a number of amazing raffle items. Also there will be a grand prize for the top fundraiser! Participants are invited to enjoy the end of the ride food, music and festivities at the Helicon Brewery from 7:30 and will finish at 9:30 PM.
Not a rider? Spectator tickets can be purchased for $15
For more information go to Cindystock.org.