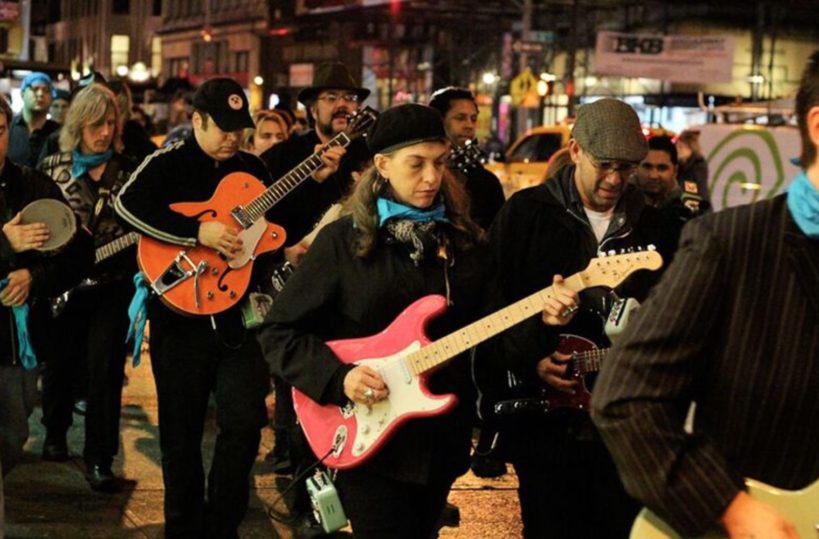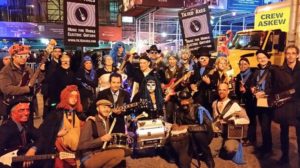 By JOHN DALY
Imagine an army of cordless electric guitars marching down the street playing innovative Balinese-like beats.  Outside your window.  In New York City.
With Music for Mobile Guitars, the new release by Tilted Axes, that's basically what you're getting plus more.
Patrick Grant created Tilted Axes in 2011 as a way of freeing the electric guitar from traditional band constrictions — basically like cords and amps.
Grant was interested to lead the celebration Make Music Winter, the event that brings NYC alive with parades in honor of the winter solstice.
The guitarists of Tilted Axes perform original compositions written by Grant as well as those from the Tilted repertoire, using portable amplifiers strapped to their sides.  Check out the Tilted Axes website.
As for the new album, it's clear that Grant loves the Gamelan music. That's clear. Grant is a composer and performer who creates music for a wide range of media.  Originally from Detroit, he studied at the Juilliard School, worked on the production team for composer John Cage, and produced his first recordings at the studios of Philip Glass. He led the compositional element of a project for the Millennium, on which he worked with Quincy Jones and Billy Joel. His travels to Bali heavily influenced his music.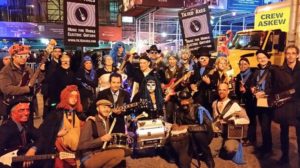 Consistent and Powerful
The album is consistent if anything. One doesn't have to be a fan of what appears to be random riffs played in concert with others to appreciate that they're being played well.
Music for the Mobile Guitar is a techno-jazz creation with an upbeat element that makes us enthusiastic for the future of original music. Let's just say the great Frank Zappa, who exhibited disdain for his own fans and worshippers and truly did his own thing, might have raised a quasi-approving eyebrow.
While there are plenty of interesting songs to take you there, our favorites on the album are the victorious "Asciae Obliquiae," the wild, rush-hour infused "Corridor 84 + Krimson Coda," and the melodic "Tilted Axes Theme."
There is enough cohesiveness to hold this new work together and gain the nod of purists, while tickling an avant-garde fancy in the most ardent of admirers of the genre.