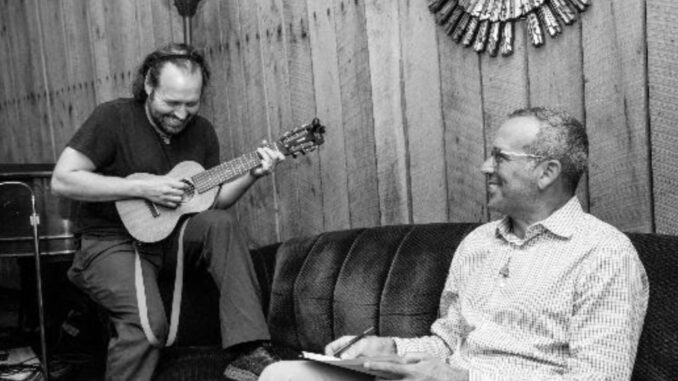 Lyricist Joe Puleo (Ten Years from Home) and singer-songwriter Eli Wenger (Los Halos) will celebrate the debut of their collaboration, Bannister Effect, with a live concert performance of their new LP, A Life I Knew at Steel City Coffeehouse on March 19.
Joining Wenger onstage will be Ross Bellenoit, Jonathan Colman, Matt Scarano and Jaron Olevsky. Christopher Burkholder will support.
Seven years in the making, lyricist Joe Puleo and singer-songwriter Eli Wenger joined forces to collaborate on their project Bannister Effect and their debut LP, A Life I Knew was released January 21, 2022. The melodic folk-rock-pop-punk album is a meditation on the vagaries of life and one man's response to the vicissitudes he faced and is a collaboration borne of a deep friendship between kindred spirits, Puleo and Wenger.
A Life I Knew is a mosaic of related songs that begin with a divorce and explore themes of love, death, self-acceptance and reemergence. Much like a novel, each song tells part of the narrator's journey and ultimate rebirth – a true evolution of one soul, told in a manner that is relatable on many levels.  Instruments, themes and sounds repeat themselves across multiple songs to evoke the people, situations, and emotions they are tied to – much like a psychedelic Peter and the Wolf.
"Every song starts with a poem that Joe wrote and then I sort of deconstruct and reconstruct it; adding my own perspectives, helping to make points cleaner and clearer, and improving the way a thought comes across more naturally for me to sing as a song," Wenger said.
"The record begins with a divorce and tells the story of a narrator that is something of a cross between Joe and I — I think of them as a character as they're not me or Joe exactly, but somehow based on us."
What: A Live Concert Celebration of A Life I Knew
Where: Steel City Coffeehouse
When: Saturday, March 19 at 7:00 PM EST.
Tickets: $20 in advance, purchase here.