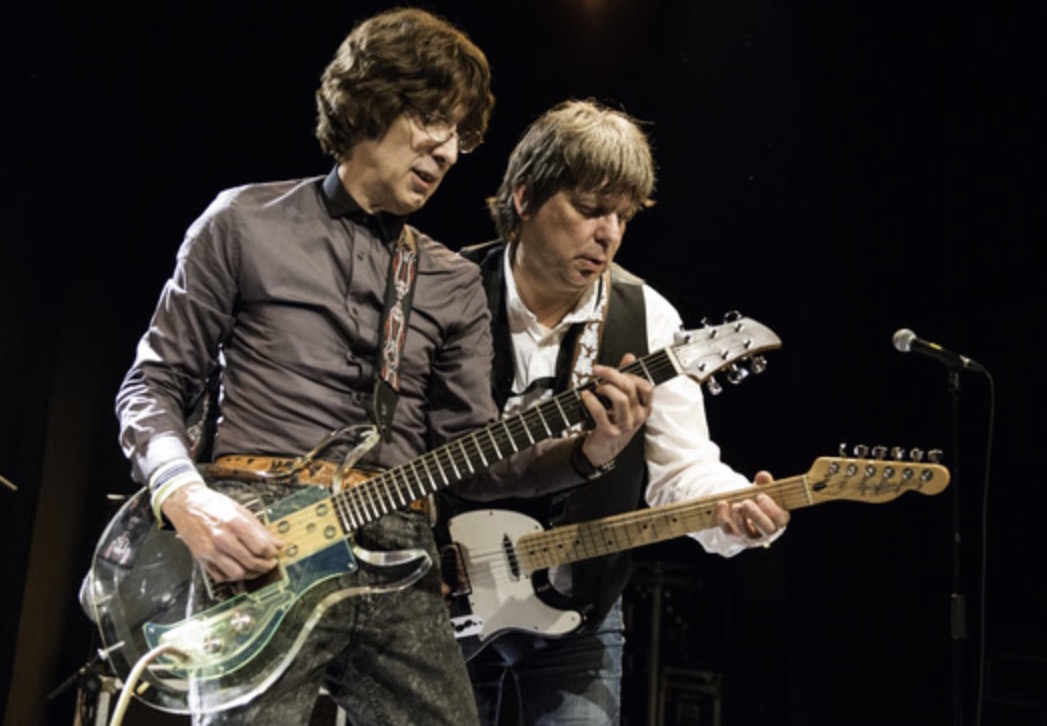 By DONNA BALANCIA
Check out a song premiere released exclusively on EastCoastRocker.com and CaliforniaRocker.com by the Flamin' Groovies, called "Cryin' Shame."
The new album is the first time in 38 years the guitarists and songwriters Cyril Jordan and Chris Wilson reunite in the studio. They're promoting the album with an East Coast tour.
Check out "Cryin' Shame," off the soon-to-be-released album, Fantastic Plastic.
'Fantastic Plastic'
The Flamin' Groovies have put together an upbeat and intricate punk-pop record with Fantastic Plastic and the record will bow on Sept. 22.
"It was 33 years that we hadn't seen each other — we're talking three decades," Jordan said. "But when we got back together and I started showing him the musical ideas I had for [the new song] 'End of the World,' he immediately came up with the second verse. It was as if time and space hadn't affected us. It was the same as it was back in 1979 when we were writing the songs for 'Jumpin' in the Night.' We went back and locked into that. It's really amazing."
In addition to the music, Jordan also contributed the album's cover illustration: An  homage to Mad magazine veteran Jack Davis' artwork for the 1959 novelty album Monster Rally.
"I met Jack Davis a couple of years before he died," Jordan recalled. "I told him, 'I've got a band, I know you've done a couple of album covers, and I'd love to have you draw a cover.' Anyway, Jack died, and I thought, 'To hell with it, I'll do Jack.' You know, I used to work for Walt Disney, doing Mickey Mouse comics back in the '80s."

The Flamin Groovies' East Coast Gigs
EAST COAST:
Tues., Aug 22  WORCESTER, MA  Ralph's Diner
Thurs., Aug. 31
  MALMO (SWE)  Moriska Paviljongen
Sat., Sept. 2
  ROSKILDE (DK)  Gutter City Festival
Mon., Sept. 4
 LA CORUNA (SP)  Garufa Club
Wed., Sept. 6
  AVILES (SP)  Niemayer
Thurs., Sept. 7
  BILBAO (SP)  Cafe Antzokia
Fri., Sept. 8
  MADRID (SP)  Sala Caracol
Sat., Sept. 9
  SAIT BOIX (SP)  Festival Altaveu
Tues., Sept. 12
  TOULOUSE (FR)  Connexion
Wed., Sept. 14
  PARIS (FR)  La Maroquinerie
Fri., Sept. 15
  NANCY (FR)  Chez Paulette
Sat., Sept. 16
  MONTBELIARD (FR)  Atelier Des Moles
Tues., Sept. 19
  MANCHESTER (UK)  Ruby Lounge
Wed., Sept. 20
  BRISTOL (UK)  The Fleece
Thurs., Sept. 21
  LONDON (UK)  Under the Bridge
Fri., Sept. 22
  AMSTERDAM (NL) Q-Factory
Sat., Sept. 23

GRONINGEN (NL) Vera
Thurs., Oct. 19
  CHICAGO, IL  S.P.A.C.E. in Evanston
Fri., Oct. 20
   NEWPORT, KY  Southgate House Revival
Sat., Oct. 21
  CLEVELAND, OH  Beachland Ballroom
Wed., Oct 24
  NASHVILLE, TN  Basement East
Thurs., Oct 25
  ST. LOUIS, MO  Ready Room
Fri., Oct 26

  KANSAS CITY, MO  Knuckleheads
Check out the Flamin' Groovies playing "Teenage Head" in Los Angeles last year:
https://www.youtube.com/watch?v=I7J58BwxaKc