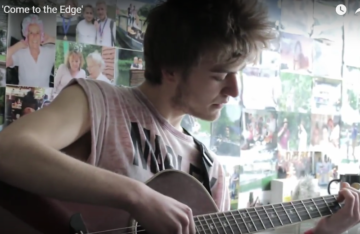 By DOTTIE PARIS – Tumbler blends legacy and youth in music and life.
Tumbler's sophomore bid Come To The Edge is a diverse collection of music, as their prominent and poignant vocals are backgrounded with arrangements ranging from sweeping orchestrations to echoing unplugged emptiness.
Following Tumbler's first album, You Said, the band apparently saw enough encouragement from fans to keep going and we're glad they did.  Stream Come To The Edge here.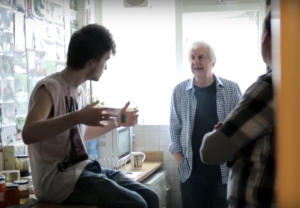 Tumbler features Harry Grace on vocals and guitar, Dave Needham on guitar and keyboards and Richard Grace on vocals and guitar; plus Harry's brother Jim and "a whole bunch of friends."
And maybe that's what makes the new album seem so real, there are indeed true emotions and relationship statements woven into the fabric of each song.
There are a lot of influences here.  It's easy to see that songwriter son Harry Grace likes the American bands.
His "Black Sheep" starts out like he's been through the desert on a "Horse with No Name," then it evolves into a Black Keys "Gold on the Ceiling," a song which in turn inherited some of its sound from the legendary band Orleans.
"Intricately Balanced"
Based on the opening song, the listener may start out thinking the album has big and full sound throughout, but it is intricately balanced.
Come To The Edge is a low-frills, high-quality record, and in an era of lots of fuzz and reverb, Tumbler's take on the elegantly produced approach is refreshing.
"Falling" takes the album in another direction, with an ethereal quality that makes the listener feel they are traveling, sometimes dropping faster than they need — for a person?  What else can you ask but, "I don't know what you just said, not sure what it meant, but Oh my God say it again."
Turntable Anyone?
The lyrics to these songs are superb.  There was a time when people sat down with an album cover in hand and read along as the vinyl played on the turntable.  Come To The Edge makes you want to crank up the turntable, put the music on and actually read along.  It's a true escape.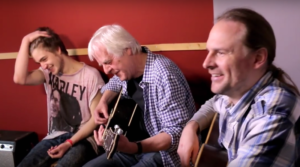 Props to Dave Needham, who in addition to playing guitar, keyboards and performing backing vocals also engineered, mixed, mastered and produced the record at Dark Horse Studio in Epsom, England.
Nothing To Hold You reflects a place where we've all been about a time long ago and the song is like a slow version of The Beatles Ballad of John and Yoko with a Donovan voice.  It's a charming and upbeat treatment by Harry's dad, Richard, of story he's had in his heart for years.
The Donovan-Ray Davies style voice reappears with "Sweetest Thing" and later in the album on the romantic Renaissance style Joanne, which would be perfectly fit with a harpsichord.
Another favorite, "Week," tells of the dilemma we all face — working 9 to 5 while sporting a rebel heart.  Great words, extremely catchy chorus, most importantly a serious matter told in a fun manner.
Tumbler makes a lot of statements. It's a modern-day band that combines the best of alternative with the most well known sounds of the '60s and the result is a pure and beautiful celebration of life in the new millennia.