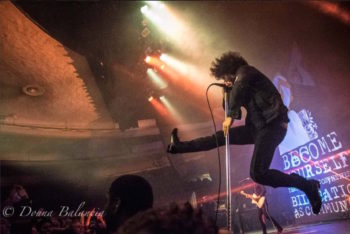 At The Drive In has cancelled the remainder of its North American shows, the band announced. Lead singer Cedric Bixler-Zavala cited health issues as the reason for the cancellation.
A post on the band's Facebook page went into further detail:
"Apologies to all our fans who have tickets but following our news earlier tonight, we regret to announce that all further shows on our North American tour, up to and including the Amnesia Festival appearance on June 25th are cancelled. Tickets can be refunded from point of purchase. We will be back to make up these shows in the future. Thank you for your continued support."
The band cancelled shows in Boston and Washington, D.C. in addition to the Montebello, Canada-based Amnesia Fest.
As of now, the band plans to follow through with its European tour.