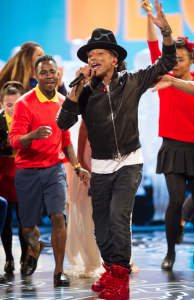 HOLLYWOOD — U2 gave a warm performance of "Ordinary Love" and Pharrell Williams put a smile on audience faces performing "Happy," as music-themed films took a dominant role at the 86th annual Academy Awards Sunday night at the Dolby Theatre.
Best Documentary Feature went to "20 Feet From Stardom" and Darlene Love sang an impromptu  acceptance speech that won a rousing round of applause.  The film by Academy Award-winning director Morgan Neville tells the story of the nameless backup singers who help shape and enrich the performances of the lead singers and superstars we do know.
Love, Tata Vega and Judith Hill are fresh off appearances that have left them tired but exhilarated, with the film winning the Independent Spirit Award in the same category on Saturday.
"The Lady in Number 6: Music Saved My Life," won Best Documentary Short.  The film tells the story of Alice Herz-Sommer, pianist and at 109 years old, was the oldest known Holocaust survivor when the film was made.  She passed away a week ago.
During the live show, Idina Menzel sang the Best Original Song winner "Let It Go," from "Frozen."
In addition to Williams' rendition, Karen O and Ezra Koening  treated the audience to a duet of "The Moon Song," from "Her," which along with "Ordinary Love," were nominees for Best Original Song.
Pink sang "Somewhere Over The Rainbow" during a tribute to "The Wizard of Oz"and Bette Midler sang "Wind Beneath My Wings."