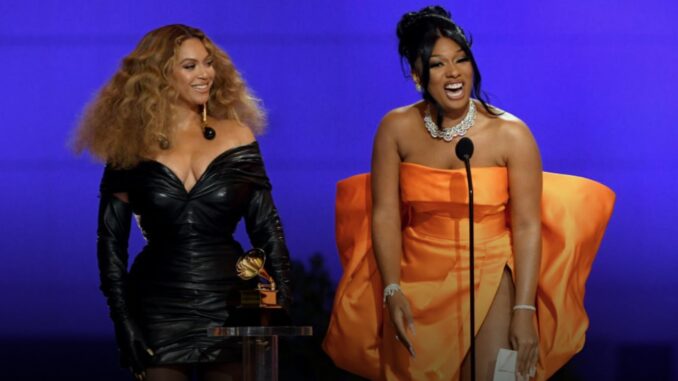 By JOHN DALY
Women and workers in the music industry dominated the theme of the 2021 GRAMMY Awards Sunday, but the "show" may have sent a different message, according to reactions on social media. There were hints that the few sponsors of the CBS presentation could have some choice words to say about "WAP" performed for broadcast — edited for television or not.
Apparently, long gone are the days when the networks cared about what they put on the air. Even during what was supposed to be a tribute to strong women and industry workers, "WAP" (short for "Wet-Ass Pussy") and scantily clad women gyrating and humping the stage won out in prime time over non-sexualized and truly independent artists.
Sadly, the annual "Best of the Best" in the music world has deteriorated to the lowest common denominator, paying homage to the million-dollar "Daddy's kids" rather than the indie musicians who have suffered the most this year as venues closed down around the world.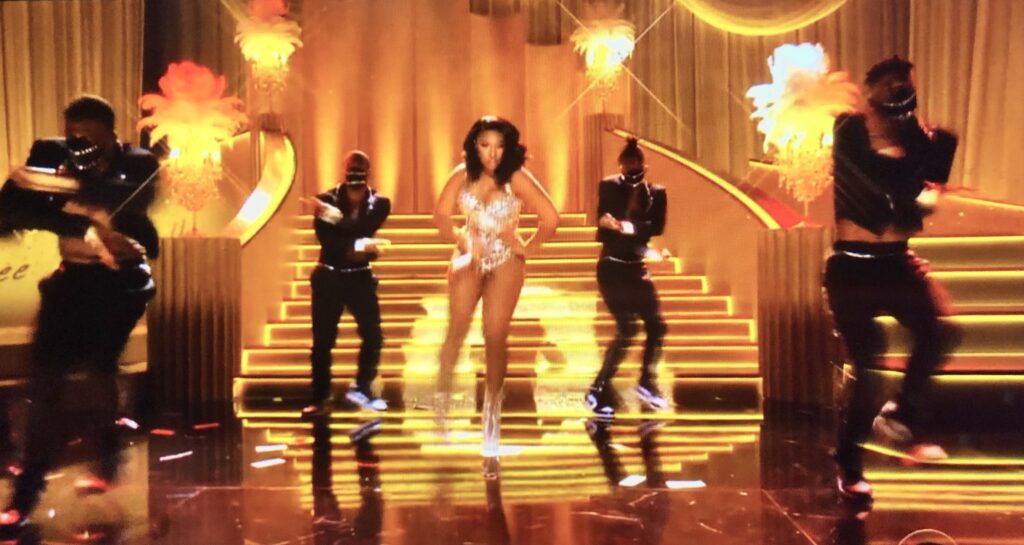 The social media world was upended by "WAP" performance, with amusing comments ranging across the board, from the GRAMMYs now being "X-Rated" to those saying Cardi B. and Megan Thee Stallion made history.
And in many ways history was made as there were the most exciting performances ever set up to save what everyone knew would be a dull night. 
Beyonce broke the record for most GRAMMY wins by any performer when she captured the win for Best R and B Performance with "Black Parade."
"As an artist I believe it's my job and all of our jobs to reflect the times," she said. "It's been such a difficult time so I  wanted to uplift, encourage and celebrate the beautiful, Black queens and kings that continue to inspire me and inspire the whole world."
Two representatives of independent music venues were on hand to present, with a bartender from The Hotel Cafe in Los Angeles presenting Album Of The Year, Folklore, to Taylor Swift. Swift thanked the fans, most of all.
"You guys met us in this imaginary world we created," Swift said.
It was Megan Thee Stallion, though, who dominated the show, injecting a new presence and fresh blood to an otherwise tiresome broadcast. And whatever anyone may think of "Wet Ass Pussy," there's no denying the choreography and performance were, at the very least, done in Las Vegas, "big dollar" showgirl style. In addition to her knockout performances during the night, Megan Thee Stallion was also a winner in several categories, including Best New Artist. If Billie Eilish had her way, she would have given her Record Of The Year Award to Megan Thee Stallion, Eilish told a sparse, socially distanced audience.
Best Rap Performance winner was "Savage" by Megan Thee Stallion Featuring Beyonce; the song also was named Best Rap Song. Best Music Video was "Brown Skin Girl" by Beyonce, Blue Ivy and Wizkid, Beyoncé Knowles-Carter & Jenn Nkiru and Rain On Me by Lady Gaga with Ariana Grande won Best Pop Duo/Group Performance.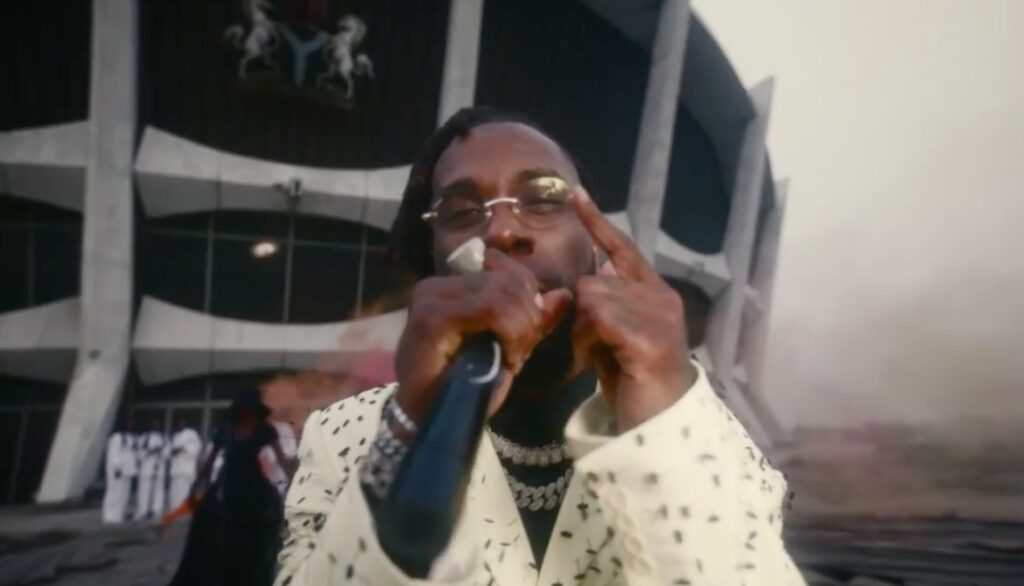 Pop, Rap and Hip Hop, and Jazz, Rock, Country, Classic and Classical music all received honors during the annual awards by the Recording Academy. The awards show was presented in a virtual environment, with a few audience members on hand, socially distanced and sitting outside on an overccast Sunday late afternoon-into evening in Los Angeles.
In a toned-down multi-camera, multi-location event, the GRAMMYs took on a different presentation approach in a music year that was crippled by division and a pandemic. But most were able to agree that the musicians nominated and those who secured awards represented a wide-ranging and diverse collection of musicians, from veterans to newbies. There were few surprises among the winners.
Burna Boy won Best Global Music Album for Twice As Tall; Best Rock Album went to The New Abnormal by The Strokes; other nominees were A Hero's Death by Fontaines D.C.; Kiwanuka by Michael Kiwanuka; Daylight by Grace Potter and Sound and Fury by Sturgill Simpson. Best Rock Song was secured by "Stay High" by Brittany Howard; Best Metal Performance went to "Bum-Rush" by Body Count; and "Shameika" by Fiona Apple won Best Rock Performance.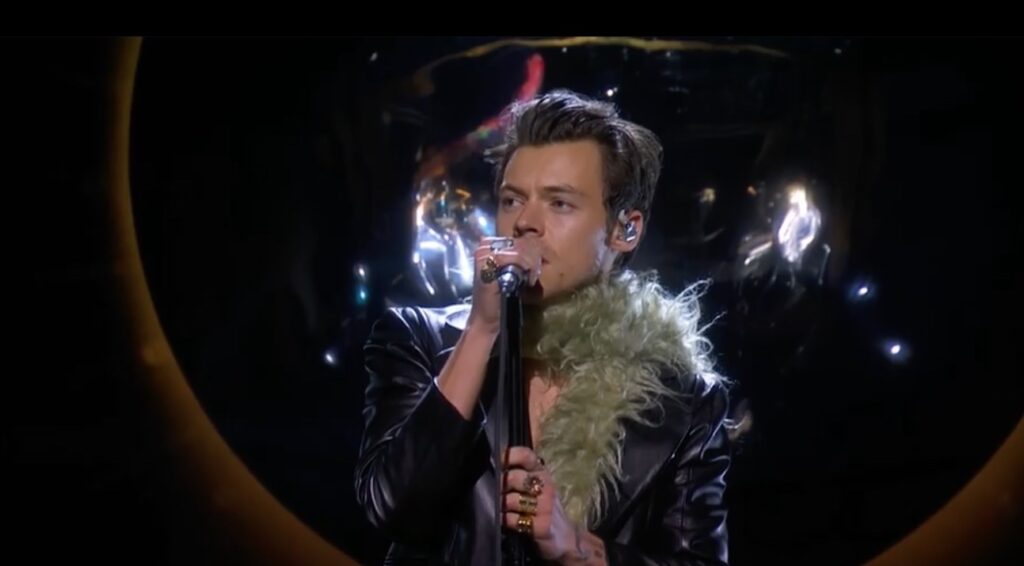 Awards were presented by a range of music industry people, including some of the workers at Los Angeles venues and outlets across the country.
Additionally, homage was paid to the artists lost this year including John Prine; Bill Withers; K.T. Oslin, Eddie Van Halen; Charlie Pride; Bonnie Pointer, Helen Reddy; Charlie Daniels and Kenny Rogers. Bruno Mars performed a Little Richard tribute medley that included "Long Tall Sally" and "Good Golly Miss Molly." Lionel Richie performed a tribute to Kenny Rogers.
Veterans had their share of wins on Sunday. Toots and the Maytals won best reggae album for Got To Be Tough. Best Contemporary Blues Album winner was Have You Lost Your Mind Yet? by NorCal's Fantastic Negrito.  Best American Roots Song was "I Remember Everything" performed by John Prine and written by Pat McLaughlin and John Prine, songwriters (John Prine). Jesus Is King by Kanye West won Best Contemporary Christian Music Album and James Taylor won Best Traditional Pop Vocal Album for American Standard.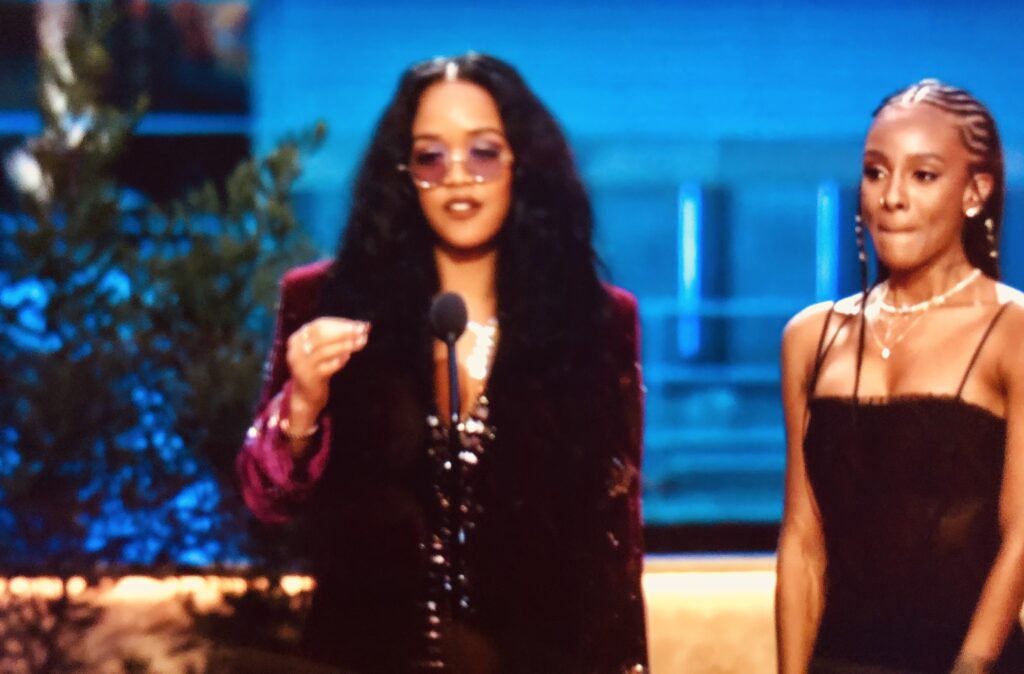 Some veteran rockers secured GRAMMYs in art and marketing catetories as Best Album Notes went to Dead Man's Pop by The Replacements ( Bob Mehr, is the album notes writer) and  Best Boxed or Special Limited Edition Package went to Ode To Joy by Wilco, with Lawrence Azerrad and Jeff Tweedy the art directors (Wilco).
Best Music Film was Linda Ronstadt: The Sound Of My Voice, Rob Epstein and Jeffrey Friedman, video directors; Michele Farinola and James Keach, video producers.
Best Traditional R and B Performance was "Anything For You" by Ledisi, Best R and B Album is Bigger Love by John Legend. Best R and B Song is "Better Thank I Imagined" by Robert Glasper Featuring H.E.R. and Meshell Ndegeocello. Best Progressive R and B Album is It Is What It Is by Thundercat.
Best Country standouts include Best Country Song winner "Crowded Table" by The Highwomen and Best Country Album went to Wildcard by Miranda Lambert.
A full list of nominees and winners can be found here.