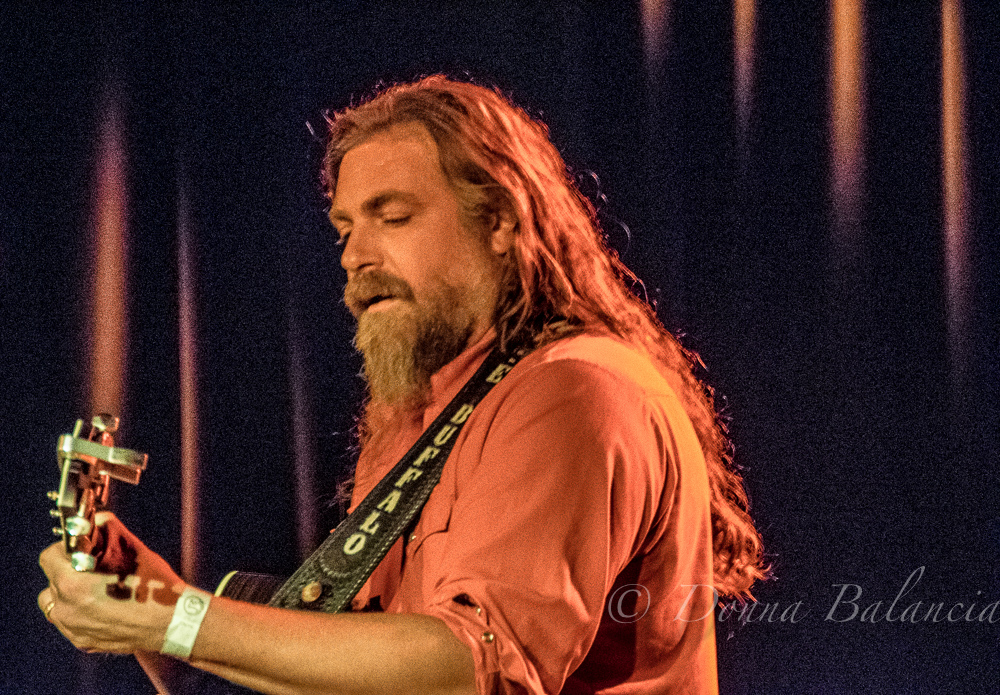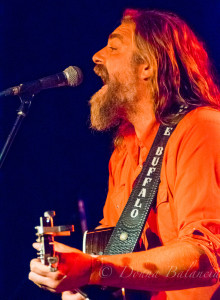 Photos and story © 2015 DONNA BALANCIA — Love and the Death of Damnation is the new album by White Buffalo, who is launching a tour to promote his music.
White Buffalo, alias Jake Smith and company, gave a special private show for 88.5 KCSN members at the Roxy Theatre Sunday night.
"He's fabulous," said concert-goer, Joy. "He sounds amazing and he's really intense!"
Others on hand, ranging in age from 16 to 70 all had positive reviews for the bearded longhair who hails from Southern California.
If Smith's voice sounds familiar, it's no surprise. He has had some critically acclaimed tunes and has been the prominent voice on TV shows including Sons of Anarchy and Californication.
Born and raised in California, Smith sings about deep characters and creates portraits of troubled souls and misfits with great compassion.
Regarding Love and the Death of Damnation, Smith said production of the album encompassed a new process.
"This is the first time we did preproduction, instead of just going in blindly with the songs," Smith said. "I wanted the songs to be as big and dynamic as possible. I want to make records that have some dynamics and some epic moments, rather than just being a singer-songwriter guy with an acoustic guitar."
The White Buffalo plays the Gramercy Theatre in New York City on Oct. 15, Paradise Rock Club in Boston on Oct. 16, The Pedal Haus Brewery in Tempe, Ariz., on Oct. 17, followed by dates in Philadelphia, Baltimore, Atltanta, New Orleans and three Texas dates before winding up on the West Coast.
10/15 New York, NY – Gramercy Theatre
10/16 Boston, MA – Paradise Rock Club
10/17 Tempe, AZ – Pedal Haus Brewery
10/19 Philadelphia, PA – Theatre of The Living Arts
10/20 Baltimore, MD – Soundstage
10/22 Atlanta, GA – Vinyl
10/23 New Orleans, LA – Parish @ House of Blues
10/25 Austin, TX – Stubb's
10/27 Dallas, TX – House of Blues – Cambridge Room
10/28 Houston, TX – House of Blues – Bronze Peacock
12/3 San Francisco, CA – The Filmore
12/4 Anaheim, CA – House of Blues
12/10 San Diego, CA – House of Blues