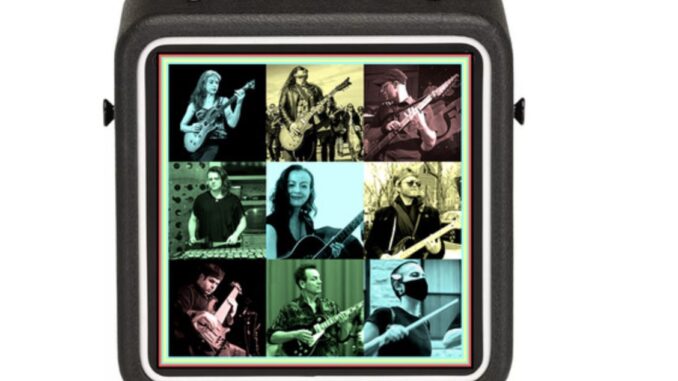 By JOHN DALY
Tilted Axes: Music for Mobile Electric Guitars returns to Astor Place with a procession and performance on Sept. 19. The event is part of the inaugural Make Music Autumn NYC. 
Tilted Axes is a group of guitarists and percussionists lead by classically trained post-rocker Patrick Grant. The group performs original music untethered via min-amps strapped over their shoulders. For the 2021 event, the group has partnered with Astor Place Hair Stylists. 
The performance spectacle will begin at the plaza sculpture The Alamo (a.k.a. The Cube). Working with the Village Alliance, the group will perform in-procession around the neighborhoods that have been key to its origin: The East Village and Greenwich Village. The performers will stop along the way at various landmarks to perform compositions significant to the location. Bringing the event full circle, they will return to Astor Place Plaza to complete their performance. The event starts at 1 p.m. and ends at 4 p.m.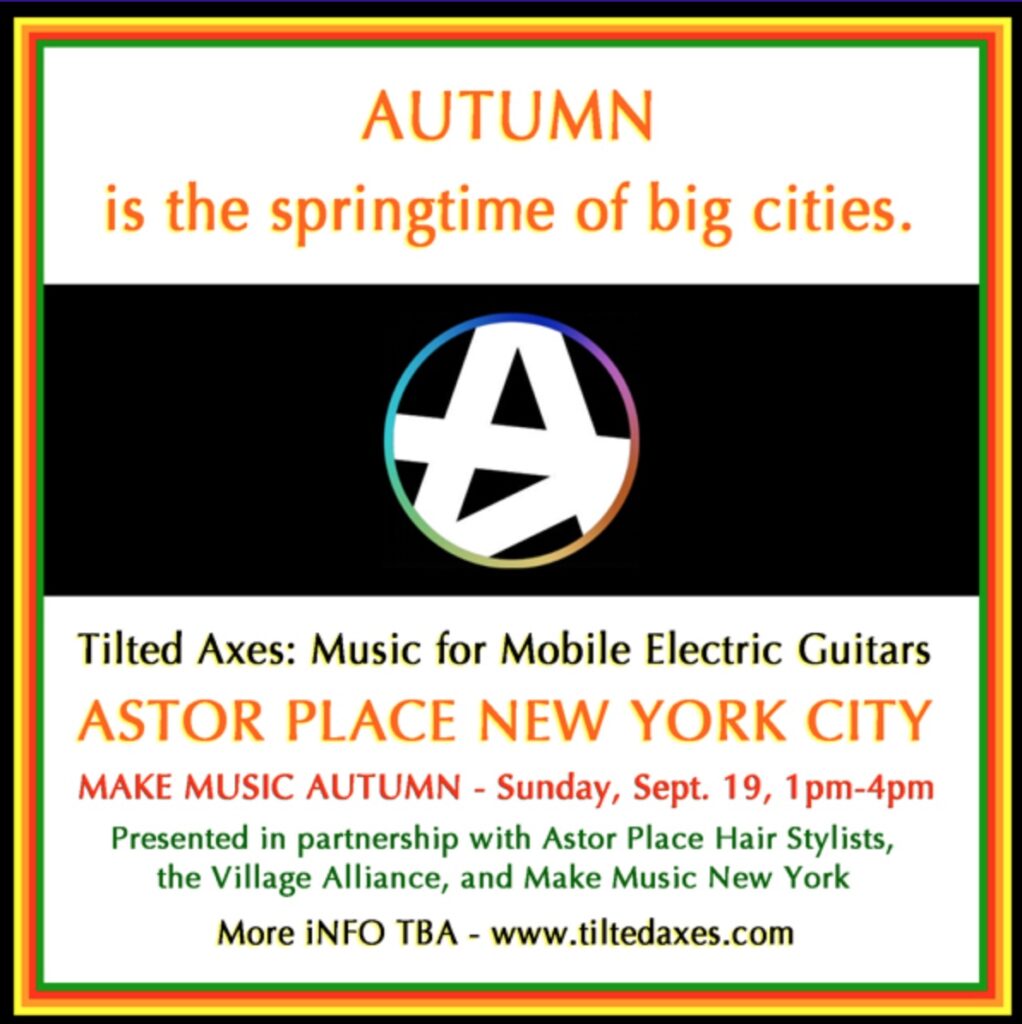 The core members of Tilted Axes 2021 are: Angela Babin, John Halo, electric guitar; Jeremy Nesse, chapman stick; Jon Clancy, percussion and composer; Elisa Corona Aguilar, electric guitar and composer; Howie Kenty, electric guitar, composer and asst. music director; Dan Cooper, 7-string electric bass; Patrick Grant, electric guitar, composer, and artistic director; Caitlin Cawley, percussion; Kevin Pfeiffer, axe alternate; Christopher Caines, movement director; Jocelyn Gonzales, media producer.
Tilted Axes is powered by Vox Amplification and Blackstar Amps courtesy of KORG USA.
Tilted@10 anniversary season is made possible in part by the New York State Council on the Arts, the Lower Manhattan Cultural Council, Make Music New York, The ASCAP Plus+ Awards, the NYU Tisch Adjunct Development Fund, and Alchemical Studios, but mostly through the generous support of people. Join our Tilted Axes team.