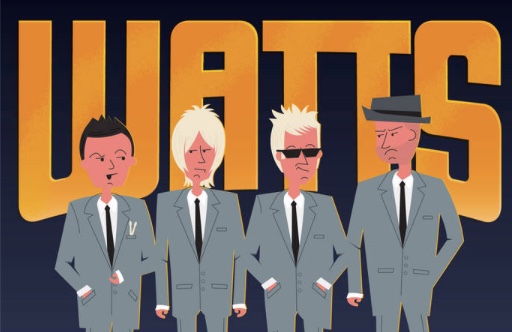 By JOHN DALY
Watts, that Boston band that has not-so-quietly recorded some great rock tunes, is at it again with a new album, Shady Rock & Rollers.
In case you haven't caught these stellar rockers, they are anything but shady. Watts sets themselves apart with their unique style akin to putting Bowie, Cheap Trick and Mott The Hoople in a musical blender and quenching the thirst for good time Rock 'N' Roll.
Boston may be home to legendary household Rock 'N' Roll names like J. Geils Band, Aerosmith, the Neighborhoods, the Real Kids, the Cars; and the city's own namesake, Boston. But Watts throws themselves into the fray in a raucous and slick trackin' way.
Watts returns with their fifth full-length album with Shady Rock & Rollers. The band's familiar label Rum Bar Records is sliding 10 brand new shots down the bar top and into listening ears. 
Shady Rock & Rollers pours up a heavy dose of fun music, infused classic tracks struttin' with swagger, hooks galore, infectious lead guitar riffs, and a whole lotta "Watts" for the stereo, cranked up for listening pleasure.
Check out Watts on Bandcamp: