By DONNA BALANCIA
Bruce Springsteen title cuts "Human Touch" and "Lucky Town" are among the highlights on the latest album release from his live music archives, Bruce Springsteen Boston Garden 12/13/92.
The newly released live album from "The Boss" features those two well-known tracks, which were played on the first of two nights at the Boston Garden in 1992.
"Human Touch," the single off the album of the same name, was released on March 21, 1992. The original recording of the song featured Randy Jackson of American Idol fame on bass guitar and Toto's Jeff Porcaro on drums. "Lucky Town" was the title track from the accompanying album released on the same day as the Human Touch album, March 31. 1992.
A range of tracks in the 28-song set get the live treatment including "Trapped," "Badlands,"  "Souls of the Departed," "Born in the U.S.A.," "Thunder Road," and Springsteen's beloved holiday perennial "Santa Claus is Coming to Town."
Patti Scialfa guests on "Human Touch" and "Brilliant Disguise," and Springsteen's manager, Jon Landau, plays guitar on "Glory Days."
Listen to Bruce Springsteen Boston Garden 12/13/92 here: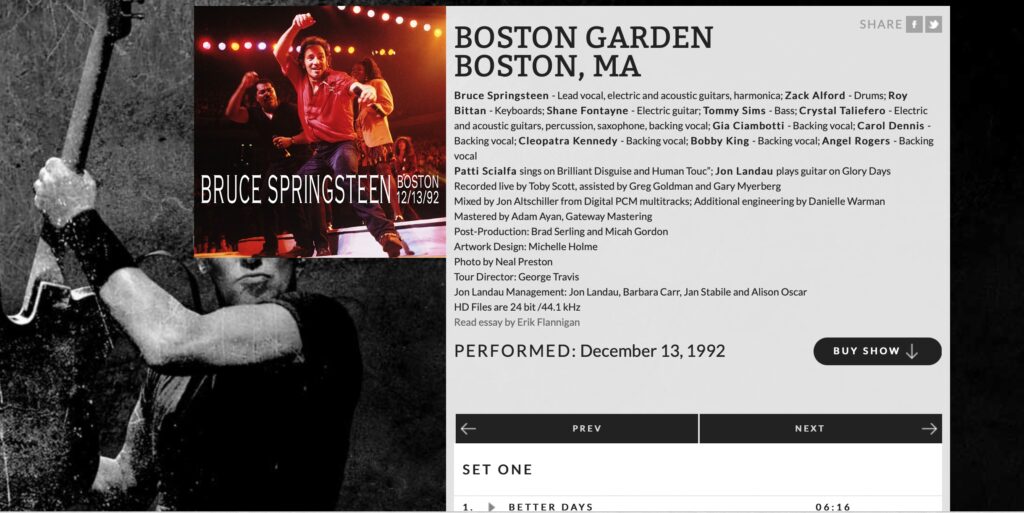 Setlist:
Better Days
Local Hero
Lucky Town
Darkness On The Edge Of Town
The Big Muddy
57 Channels (And Nothin' On)
Trapped
Badlands
Living Proof
If I Should Fall Behind
Leap Of Faith
Man's Job
Roll of the Dice
Gloria's Eyes
Cover Me
Brilliant Disguise
Soul Driver
Souls Of The Departed
Born in the U.S.A.
Real World
Light Of Day
Human Touch
Glory Days
Bobby Jean
Thunder Road
Born to Run
My Beautiful Reward
Santa Claus Is Coming To Town
Credits:
Bruce Springsteen – Lead vocal, electric and acoustic guitars, harmonica; Zack Alford – Drums; Roy Bittan – Keyboards; Shane Fontayne – Electric guitar; Tommy Sims – Bass; Crystal Taliefero – Electric and acoustic guitars, percussion, saxophone, backing vocal; Gia Ciambotti – Backing vocal; Carol Dennis – Backing vocal; Cleopatra Kennedy – Backing vocal; Bobby King – Backing vocal; Angel Rogers – Backing vocal
Recorded live by Toby Scott, assisted by Greg Goldman and Gary Myerberg
Mixed by Jon Altschiller from Digital PCM multitracks.
Additional engineering by Danielle Warman
Mastered by Adam Ayan, Gateway Mastering
Post-Production: Brad Serling and Micah Gordon
Artwork Design: Michelle Holme
Photo by Neal Preston
Tour Director: George Travis