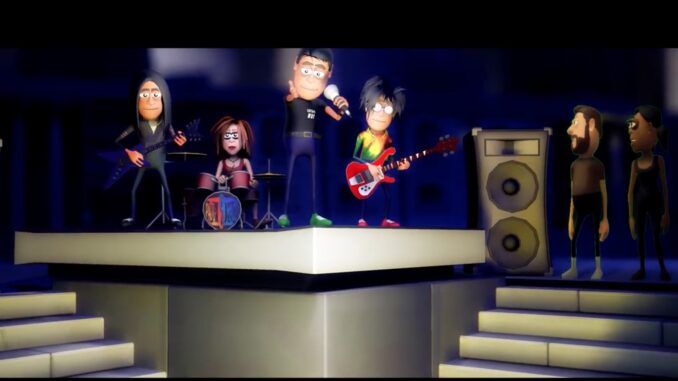 By JOHN DALY
"Culture War" by Paul Maged aims to give the act of protesting a modern spin, but the song does much more than promote the act of taking it to the streets.
"Culture War," the title track of Maged's new album, has a rock beat that drives home the point that we are really in a state of disagreement. Maged's highly personal song pleads: Will we ever have a compromise or find middle ground and come together as a people?
Maged's fifth album boasts a range of energized tracks, and Culture War is a solid offering from a seasoned musician who continually brings a metal-style twist to Rock 'N' Roll.  The album offers a range of topical messages. In addition to rock-heavy tracks like "Lose Your Privilege," there are thoughtful tracks in particular "We Are," a moving ballad.
Particularly strong rock tracks are "Cult 45," a fast-moving warning tale centered on our current administration; "Jeannie is a Rock Star," and "Simplicity."
Maged infers both sides in our political times will have to cope with this reality in one way or another. It's how you handle the times when you don't get the result you want that makes life real and true.
"Dreams play a big part of Culture War, the album," Maged said. "You always hear people say 'Follow your dreams, you'll make it, I know you will if you just believe.' But the truth is, most people don't 'make it.' Most of the time our dreams don't come true. I wanted to write about dealing with those sort of bittersweet, melancholy feelings."
From that belief, Maged wrote the great song "When Dreams Don't Come True," which wraps the album beautifully.
"Culture War" was the first single to be released off the album and it's accompanied by an extremely creative animated video produced by MY3D.
Culture War Tracklist:
Culture War
Simplicity
We Are
Shine On Your Light
Cult 45
Jeanie Is A Rockstar
Illusions
The Saturday Scene
When Dreams Don't Come True
Check out Paul Maged at his website  and on social media including Instagram
Culture War: