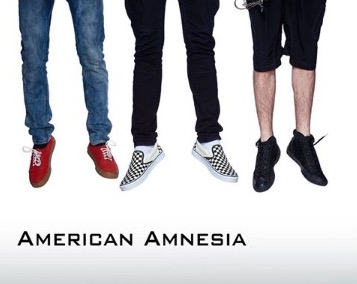 By JOHN DALY
American Amnesia brings a throwback metal-prog sound with its new release '…Yet Here We Are.' These young rockers are well-studied and take an interesting approach to blending classics with modern music.
It's a refreshing sound for people who love Alice in Chains, The Killers, and other hard rock and progressive fare.  The Connecticut-based band members bonded over their love of music. It was the love of writing and performing a range of music that brought singer-guitarist Patrick Nemaizer to collaborator Sam Cesnak.
American Amnesia has two albums and Howard Nemaizer began producing some very strong demos of their original material.
The band created its own label, Prophet Motive Records LLC to promote, market, distribute and manage the band, music and individual members of  American Amnesia.
The debut album, . . .Yet Here We Are is out now.
Patrick Nemaizer is on vocals and guitar, Sam Cesnak plays drums and Gus Pac is the bassist.
Location: Torrington, Connecticut USA
Release Name: … YET HERE WE ARE
Release Date: Jun 22, 2018
Label: Prophet Motive Records LLC (indy label)
Producer: Howard Nemaizer
Track List:
1. Time
2. The One
3. Questions in the Dark
4. Carillon
5. The Candle
6. How Come?
7. Richest Poor Man
8. Means to an End
9. All of the Ashes
10. No Doors
11. Stars of Orion
Musicians:
Patrick Nemaizer: Lead Vocals and guitar
Sam Cesnak: Drums and vocals
Gus Pac: Bass
Styles: Alternative, hard rock, indy rock, pop rock,