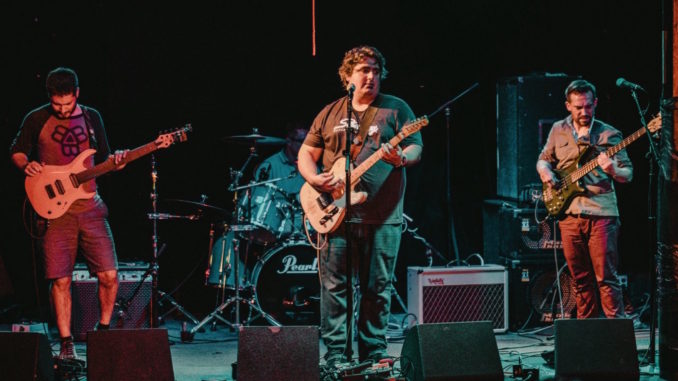 By DOTTIE PARIS
Pale Blue Dot is putting out some rockin' music with a touch of elegance, despite playing most nights of the average week. So when they decided to put out their latest album, Anatomy, apparently the natural choice was to record it live.
Clearly, Pale Blue Dot enjoys enjoys the live venue and recording, nicks and all.
Anatomy is appealing in its real-ness not only with its rough recording, but also in its songs, like "Yesterday's News." It seems the search for truth continues on many levels for this band. Another favorite on the album is "Canyons."
Pale Blue Dot Bandmembers
The band is comprised of Tony LaRocco on vocals and guitar, Peter Balogh on guitars, Drew Pompano on bass and Darby Wooten on drums.
The music is soulful and is great to listen to if you're in the mood to think about the future or even dream a little bit. Dreaming is still allowed today despite what social media may tell you. And Pale Blue Dot takes a distance view of those less human aspects of life.
The songs are beautiful and the mechanics and talent of the music is all there in East Coast style.
Check out the Pale Blue Dot Facebook Page. 
Artist Name: Pale Blue Dot
Location: Charlottesville
Release Name: Anatomy
Release Date: May 25, 2018
Label: Rockfish Music
Producer: Dave Stipe
Track List:
1. I Know
2. Only Love
3. Stained Glass Window
4. Dust and Light
5. Yesterday's News
6. Canyons
7. Suitcase
8. The Harlot and The Gambler
9. Lo and Behold
Musicians:
Tony LaRocco: vocals guitar
Peter Balogh: Guitar
Drew Pompano: Bass
Darby Wooten: drums
Styles: Alternative Rock, Pop Rock