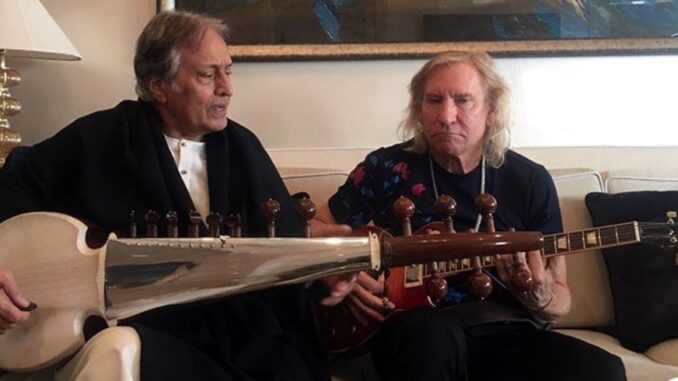 By DONNA BALANCIA
– Joe Walsh and Amjad Ali Khan assembled a superstar group of musicians and have released a three-song EP called Prayers, proceeds from which go to charity.
Walsh, the multi-GRAMMY award-winning singer-songwriter-guitarist, and Khan, a respected classical sarod virtuoso and composer, make an interesting duo. And while the difference between Rock 'N' Roll and classic Indian music couldn't be greater, it's that very difference that makes some unique and memorable music.
Walsh met Khan while visiting India. After the two performed at the Taj Mahal Hotel in Mumbai, Joe invited Khan and his two sons, Amaan Ali Bangash and Ayaan Ali Bangash to come to Los Angeles and record with him to see what they could create together. Walsh also asked some of the most well-known rockers in music to join them on the recording: Jim Keltner, Davey Johnstone, Michael Thompson, Nathan East, Stewart Copeland, Joe Vitale and Lee Sklar.
"The time I spend in India is always transformative," Walsh said. "My first visit delivered 'India,' which was on Analog Man.  Subsequent visits stirred within me a deeper curiosity for Indian instruments and their music. In spending time with the maestro, himself, Amjad, I was excited to see how my instrument and his could work together.  
Prayers was engineered by renowned producer Bruce Sugar, who has worked with Ringo Starr, Elton John, Walsh, Mick Jagger, Paul McCartney and Ozzy Osbourne. Sugar also has a connection to India, having designed and built a recording studio for the Oneness University in Channai India.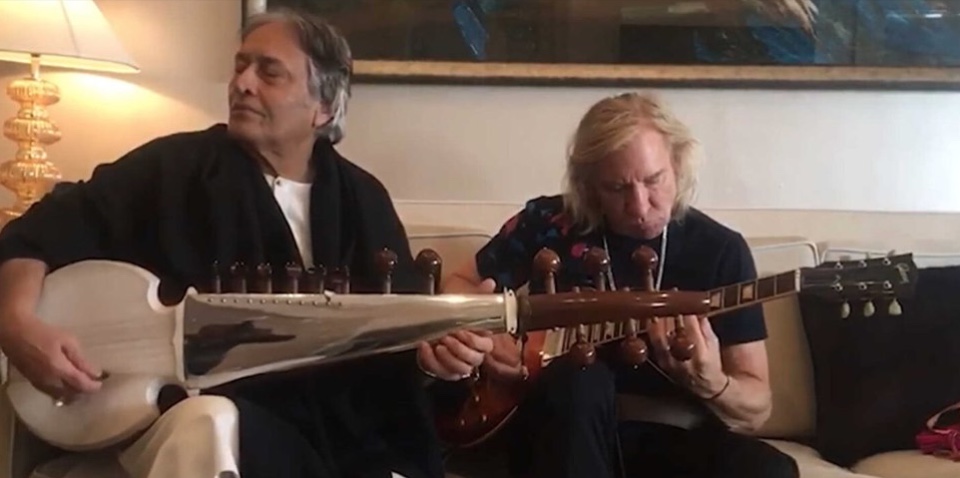 The musicians on the record are a Who's Who in the music business. Nathan East, Lee Sklar and Abe Loboriel play bass on the record; Jim Keltner and Stewart Copeland are on percussion; Ed Roth, Michael Thompson and Joe Vitale play keyboards and Davey Johnstone is guitarist.
The three songs on the EP, "Healing Love," "Goddess" and "Hope (We Shall Overcome)" are described by the Walsh and Khan as a "meditative exploration on the nature of sonoral divinity," through which the artists find common ground.
The songs on Prayers are rhythmic and soothing in nature, covering a delightful landscape of sounds and emotions. "Healing Love" blends an upbeat rhythm with the unique and fast twangy tones of the sarod. The sarod is a stringed instrument with no frets and delivers the popular sound that is resounding in Indian music. "Goddess" features the outstanding vocals of Khan, who takes center stage against a hauntingly melodic backdrop of sweeping keyboard, emotive electric guitar and echoing percussion.
"Hope (We Shall Overcome)" is most recognizable as it is a new interpretation of the spiritual "We Shall Overcome," which took on significance during the American civil rights movement. The latest homage to the song, generally attributed to Charles Albert Tindley and published in 1901 has a unifying intent in its global-style production.
Walsh said the collaboration has been important for several reasons.
"By the time I got to work on these tracks in the studio we were in complete lockdown pandemic mode," Walsh said.  "The more time I spent with this music the clearer it became that these tracks had healing properties and needed to be shared as a gift.
"So, in honor of all the frontline workers who continue to be of such incredible service and courage to us all during these horribly challenging times I'm donating my proceeds to IntraHealth International, whose vital work for healthcare workers around the world aligned perfectly. With our gratitude and with love to them all please enjoy Prayers."
Khan said it was a memorable experience working with Walsh.
"Across cultures, as artists we can understand and appreciate each other and thereby trying to heal this divided world, and what better way is there to achieve this ideal than through the joy and spiritual nourishment that music brings," Khan said.
"We are so thrilled and grateful to Joe and Amjad for their generosity," said Polly Dunford, president and CEO of IntraHealth International. "Their gift is going to make health workers around the world safer as we battle this pandemic today and build a healthier future for tomorrow."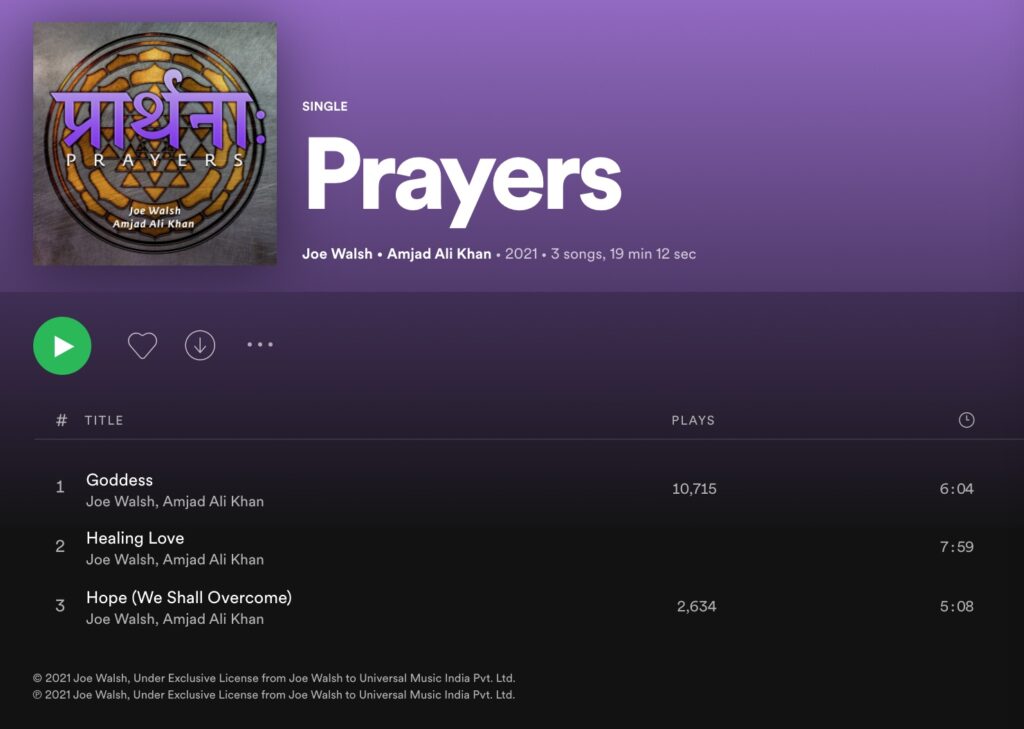 PRAYERS Credits:
Engineered by Bruce Sugar
Electric guitar: Joe Walsh
Sarod: Amjad Ali Khan, Amaan Ali Bangash and Ayaan Ali Bangash
Vocal: Amjad Ali Khan
Tabla: Satnam Ramgotra
Nathan East: Bass
Lee Sklar: Bass
Abe Loboriel: Bass
Jim Keltner: Percussion
Stewart Copeland: Percussion
Ed Roth: Keyboards
Michael Thompson: Keyboards
Joe Vitale: Keyboards
Davey Johnstone: Guitar