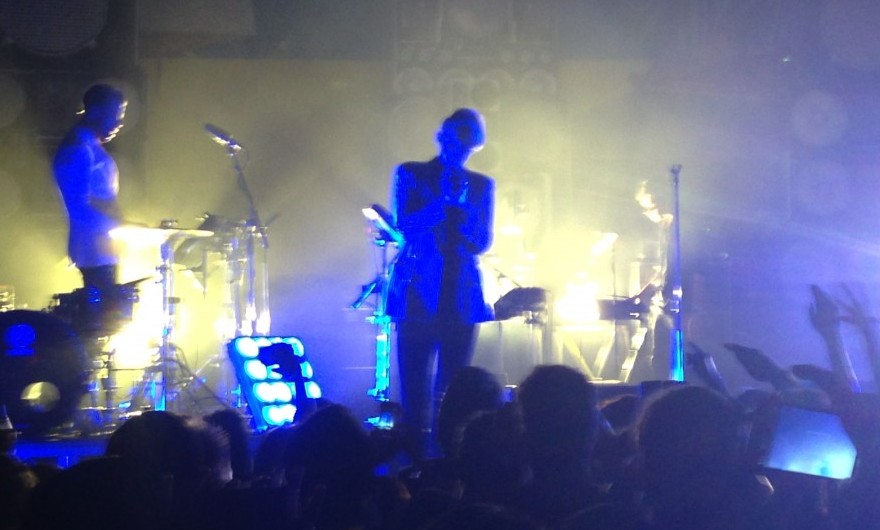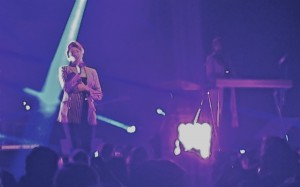 By DONNA BALANCIA in HOLLYWOOD — Elly Jackson of La Roux sports a duality that goes beyond the suit and bright red pompadour hairstyle.
Performing at The Fonda Theatre in Hollywood, in a town where contrasts and contradictions are cherished,  to say that Jackson's message was well-received would be an understatement.
Through a sound system that was complimented by fabulous staccato stage lighting, La Roux, touting their latest album, Trouble In Paradise, got their chance to truly shine.
See La Roux perform "Tigerlily"
Playing a selection of songs off the new album and favorite tunes off the debut album, La Roux, Jackson seemed accustomed and happy to lead her audience's massive singalong.  For the entire night.
Her inspiring and light-hearted performance underscored her bond with the crowd of the faithful, and etched an indelible mark of introduction to newcomers.
See La Roux perform "Uptight Downtown"
Jackson, 26, is dashing and sexy, with a presence that has either been inherited courtesy of her musical lineage, or lovingly fine-tuned through her in-concert character.
The Hollywood studio executive "elevator description" of Jackson might be "A cross between David Bowie and Florence Welch with a pinch of Nick Cave." That wouldn't be far off, as she embodies the powerful presence of Bowie, the vulnerability of Welch and sports Cave's swagger.
See La Roux perform "Let Me Down Gently"
Jackson is at once a Hollywood leading man and a feminine starlet.  And, like her audience, she clearly loves a good dance tune.
But perhaps it is Jackson's ability to overcome major obstacles like the break-up with La Roux's co-founding partner Ben Langmaid and her slip towards a debilitating writer's block that has endeared her to her fans.
Because after all, in Hollywood they love a happy ending.  And then, they want the sequel that introduces new challenges, new characters and more obstacles to overcome.
And that's a powerful duality.
The La Roux U.S. Tour concludes Oct. 4 at Terminal 5 in New York City.  Along the way, there are stops in Boulder, Colo.; Minneapolis; Chicago and Detroit.