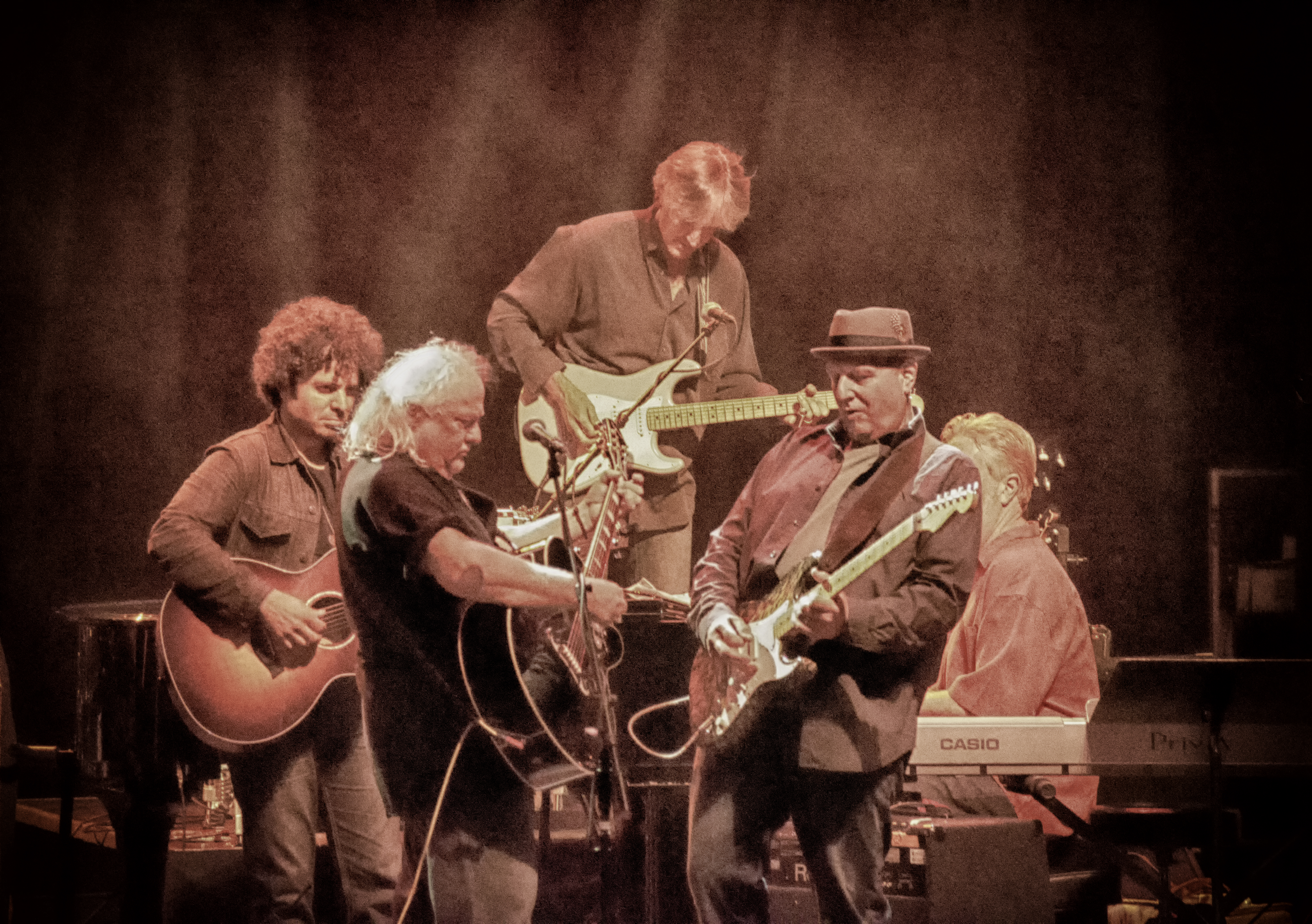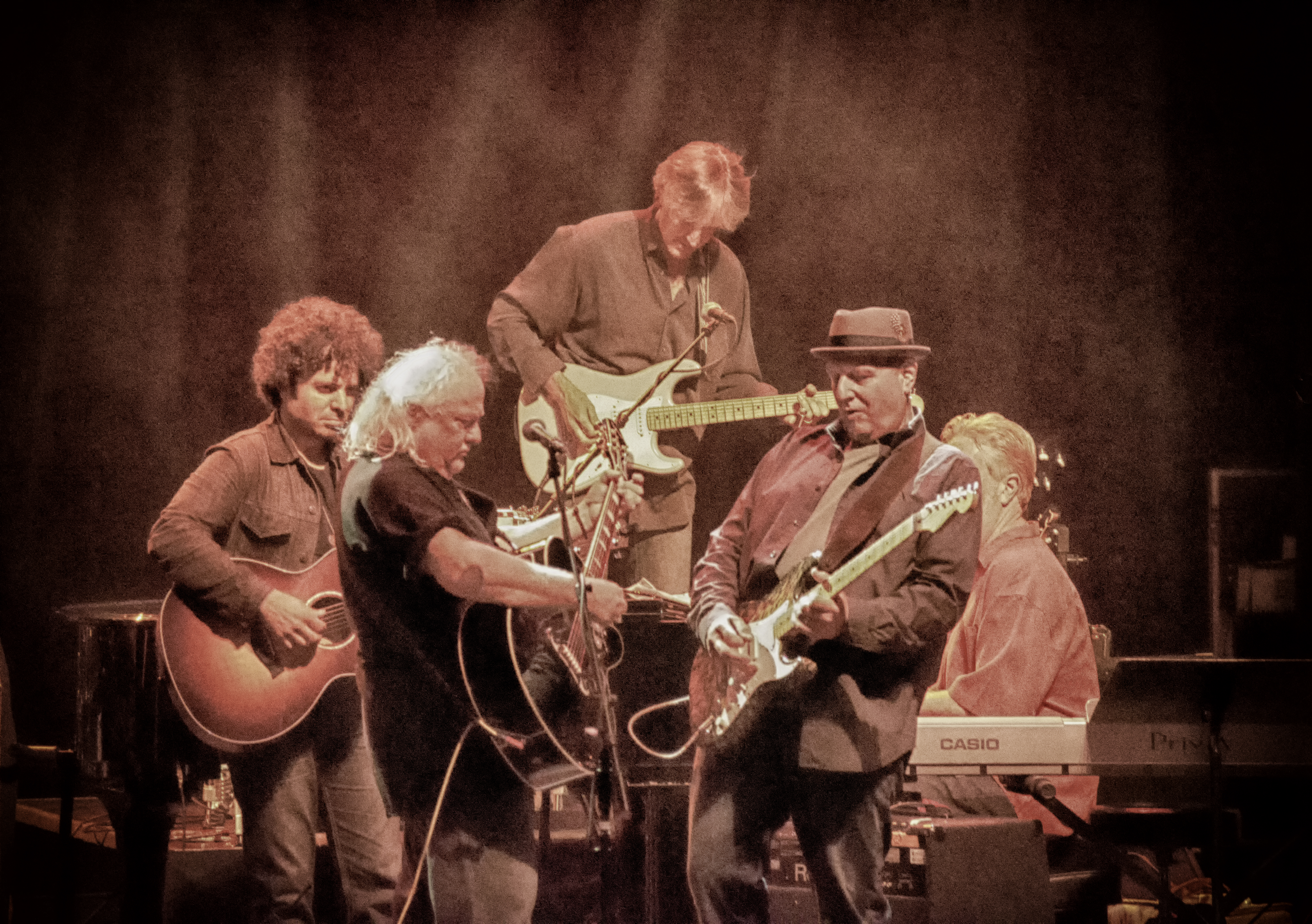 By RICHARD HOYNES, East Coast Rocker
RED BANK, N.J. — Bob Dylan, who turned 72 years old on May 24, is one of the greatest singer-songwriter-poets in the world. There's a story running around that Bob was picked up by the police during his visit to Long Branch at the Jersey shore a few years ago because they thought he was homeless person and had no ID.  How could you not know who Bob Dylan is?
In its 16th year, BOBFEST filled the Count Basie Theater with the wonderful lyrics and songs of Bob Dylan.   The show was led by Pat Guadagno and his band, Tired Horses, and included many special guests.  I respect Pat to such a degree, I featured him in my new coffee table book, Great Jersey Musicians.
BOBFEST was hosted by Big Joe Henry of New Jersey 101.5 FM. Pat and his band were joined by some very special guests including, Steve Delopoulos, Rob Paparozzi, Marc Muller, Jeff Levine, Steve Reilly, and Mary McCrink.
The harmonies of the combined voices of Pat, Steve and Mary brought the audience to their feet with cheers.  When Mary sings, it's like the heavens open and the light shines through.
In the lobby were some sales and auction items, a portion of whose proceeds went to a scholarship charity in the name of Pat's late brother, Anthony Guadagno.  Some of the items included CD's, a giclee painting of Bob Dylan, and copies of Great Jersey Musicians signed by musicians including Clarence Clemons III, the eldest son of Clarence Clemons of Bruce Springsteen's E Street Band; singer songwriter Kelley Dewkett; and Arne Wendt, the keyboard player for Jon Bon Jovi's second band, The Kings of Suburbia.
We had the pleasure of interviewing Pat after the show.
RH:  What sparked your passion for music?
PG:   We are all born with a passion for music. Entertainers just deal with it differently (and constantly)
RH:  How did you get started?
PG:   As soon as I could reach the record player on top of the TV I started playing 45s.  Pat Boone's "Love Letters in the Sand" and Jimmie Rodgers' "Kisses Sweeter than Wine" were the two that I recall playing over and over again.
RH:  What's the most memorable experience you've had in your career so far?
PG:   Singing the National Anthem at Giants Stadium before the Giants-Cowboys game was BIG, as was performing for Navy Troops on the deck of an aircraft carrier in the Persian Gulf. But Holiday Express has allowed me the biggest ROI by far. Performing is circular.  What you put out comes back to you if you're lucky. On any given night I can reach out and grab someone's soul, and at the same time annoy the guy trying to watch the hockey game, but nothing can compare to watching an autistic child feel live music or a forgotten soul receiving the only gift he will get this year.
RH:  I saw you give a portion of the money to charity.  What charity and why?
PG:  A portion of the proceeds from BOBFEST goes to the Rock and Roll Music Fund which is a 501(C)3 non-profit that helps out those less fortunate through music.  We started the Tony Guadagno Scholarship Fund, which every year will help a bass player from NJ attend Berkley College of Music where my brother studied.
RH:  Have you met Bob Dylan?
PG:  I've never met Bob Dylan.
RH:  If you had to live your life over again, what career would you choose and why?
PG:  Without sounding evangelical I think that you don't choose a musical career.  It chooses you.  Given the chance to do something different, I would do nothing different.   I do wish I had studied music harder, but my aversion to studying music began when piano lessons got in the way of playing guitar. I don't ever want to understand music or how it works or why it touches people differently, or why I was chosen to be one of the instruments through which it travels.  It's magic. I believe in magic.
Pat can be seen playing all over the Jersey shore.  For more information, visit http://www.magombo.com and www.GreatJerseyMusic.com .