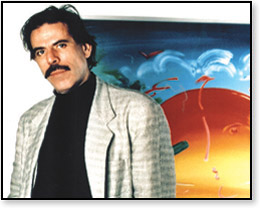 By DONNA BALANCIA – ORLANDO — Since his height of fame in the late 1960s, pop artist Peter Max has learned to weather the economic highs and lows of the world of fine art.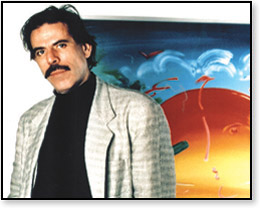 "The secret to success is you need to combine your passions, and for me, that was astronomy and art," said Max, whose work is on display at the Wentworth Gallery in the Mall at Millenia in Orlando.
As the economy continues to threaten the fine-art investing world, artists need to weather the storm, much in the same way Max did when he was starting out in 1965 in New York City.
"When I came out of art school, I was a realist," Max said. "My teacher was Frank J. Riley, who studied with Norman Rockwell, who was sitting next to him. Norman Rockwell was on the covers of The Saturday Evening Post, and Frank went on to be a teacher."
Max said he was so impressed with Riley "that I studied realism, and I was a tremendous realist, only to find out that, in three months, I never got a project. I was hurt, scared — everything."
But he kept optimistic, much like artists also have to do today. Then someone noticed, not his realistic art, but the doodling of rainbows, stars and "cosmic jumpers" on a scrap of paper tucked inside his portfolio.
"I was heartbroken, sitting in a cafe, looking for work," he said. "I always used to like astronomy — the stars and the planets. Really, I wasn't drawing to create a new style. I just liked the subject. So, one time, I went to show my realistic work to a guy, and he saw the stars and planets doodles, and he said, 'Pull that out.' "
With that encounter, Max's career took a turn he never expected. His posters were selling quickly, and, although only in his 20s, he was becoming a household name.
"Then, Mead Paper said to me, 'We're doing a back-to-school line. How about doing some designs for us?' " Max said. "I said, 'What's back-to-school?'"
Max answered that question himself when children all over the country — even in Hawaii, where he was on vacation that year — carried notebooks and book covers with his designs on them.
As his fame continued, his gallery showings increased, and he became the darling of Madison Avenue art directors. His art was licensed for things such as soft drinks, pillowcases, clocks and even movies.
"I designed the look of the film 'Yellow Submarine,' " Max said, referring to the 1968 animated film about the Beatles and their psychedelic adventures in a submarine. "But I didn't direct the actual movie because, by the time they got the financing, I had 65 people in my studio, and my career was in full swing."
Today, new opportunities for artists emerge every day. The global interest in art will propel artists, even if there may be worry about the fate of fine art domestically.
Milton Esterow, editor and publisher of art magazine ARTnews, said the view of fine art is mixed.
"There's a difference of opinion whether the market has peaked," Esterow said. "I say, you don't invest in art; you buy art because you love it and you want to live with it. There's been a massive jump in value. But with the financial markets and the housing downturn, they've been expecting trouble for a year and a half in the art world, and nothing has happened."
Many times, through their connections, artists can come across projects that get their name out.
For example, Max has traveled the world and has had some terrific experiences because of his artwork.
His Statue of Liberty paintings caught the attention of the people who refurbished the statue on Ellis Island in 1986.
"I didn't know what to do, but they came to me and said, 'The Statue of Liberty is not going to make it. She's falling apart,' and I knew I had to do something," Max said. "I was like Mr. Magoo. I had no clue. So I figured, I had met Nancy Reagan and thought that was a good place to start. So I called 1-202-555-1212 and asked information for the number for the White House."
Reagan suggested a way for Max to help out. He brought his acquaintances together and helped raise the money.
Max said artists need to look for new opportunities and stay humble.
"People who I feel I would have shined their shoes have come up to me and said, 'You're Peter Max. I love your colors,' " he said. "There's a lot of creativity out in the world today. Just keep fresh with the times, keep up with the times and merge your passions." — By DONNA BALANCIA
Editor's Note: After a four-hour conversation with the artist of my time, I decided to go and meet Peter Max in person at his gallery show.  The book binder I brought along for him to sign I owned since first grade.