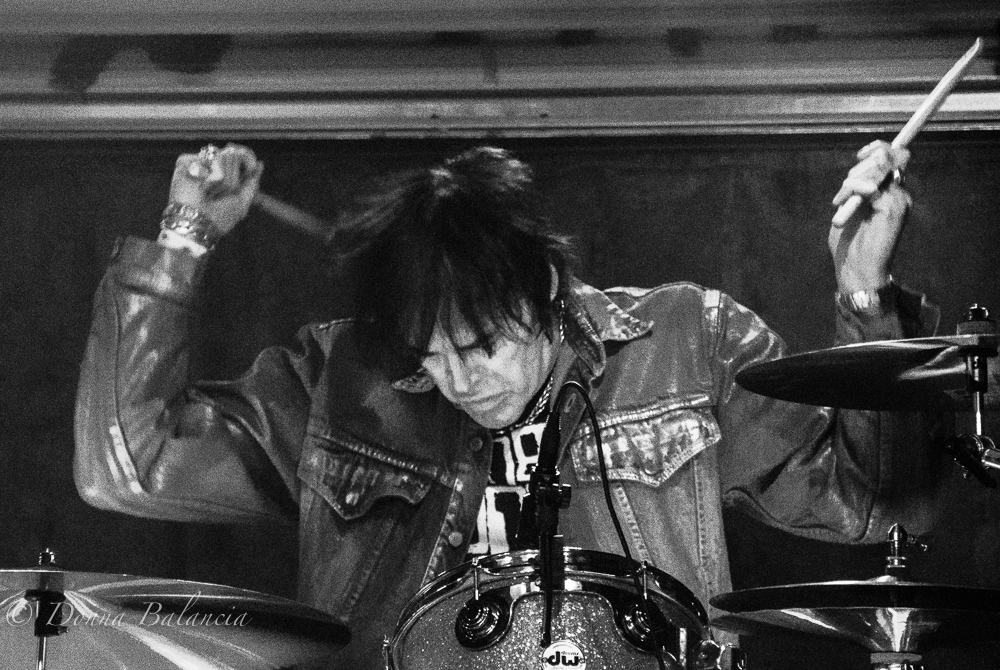 By DONNA BALANCIA – Richie Ramone says life in his Southern California neighborhood is very cool, but don't call this former Jersey-ite a "Valley Guy."
For Ramone, the drummer and a singer-songwriter for the Ramones from 1983-1987, life looks a little different than it was in the (Gabba Gabba) heyday.
The affable Ramone — born Richard Rheinhardt in Pasaic, N.J. —  has a new record on the horizon, a steady gig as a touring musician, and he lives in the valley with his beautiful fiance and three rescue dogs.
"I got it pretty good," Ramone said. "I'm writing music, I'm touring, and I'm not in the snow, things are good."
The quiet life beyond the orange groves is a far cry from the clangorous metal grit of the mean streets of New York's Lower East Side.  The tall, dark-haired Ramone and his fiance, Tiffany, enjoy their life in the suburbs with Greta the Boxer, and two miniature Pinchers named Jack, and Curley.  There's no shortage of barking.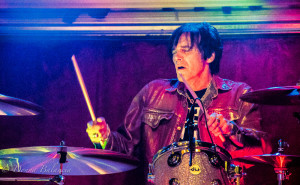 As the drummer and a songwriting member of the Ramones from 1984-1987, Ramone contributed to and learned a lot from his band mates.
The creator of such hits as "Somebody Put Something in my Drink,"  Richie also wrote "I'm Not Jesus," "Can't Say Anything Nice," "I Know Better Now," "Humankind" and "Smash You" the title track the Ramones' re-release, Smash You: Live '85.
Joey credited Richie not only with great drumming, but his songwriting and vocals that helped steer the band into new territory during the later years.
Coming Up
Ramone went from playing in some hit-and-miss New York-area bands to being the drummer of choice for the punk icons and he played some 500 live performances with Joey and the crew.  And during that time, he watched and learned. The experience was invaluable for eventually running his own band.  Ramone released his first solo album, called Entitled in 2013.
Ramone comes from an eclectic musical background. His parents raised him and his brother — who actually plays the bagpipes — with music in the house. But once he started making money from music — playing bar mitzvahs at the age of 12 back in New Jersey — he was hooked.
But, Ramone admits, his parents didn't have the easiest time accepting that he wanted to be a professional musician.
"Of course they were worried, but they let us do what we wanted to do," Ramone said.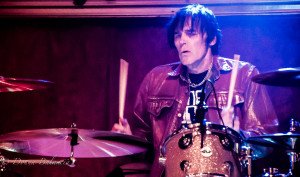 Things worked out, Ramone says, because he focuses on the positive and he keeps making music and performing, which is what it's all about, he said.
He has a gig playing the Hi-Fi Rockfest on Sept. 26 in Long Beach, and he's planning to go to out on the road after the release of a new album.
New Album
Ramone and his band are touring in February to support the new record called In The Neighborhood, Ramone said.  It's unlikely anything about Ramone's own neighborhood will be on the record, unless Ramone came up with songs about coping with the California drought, avocado sandwiches or the local heat wave.  But he won't reveal any details yet.
He's psyched up to tour in February — and why?
"I love checking out the food from all over the world," Ramone said. "Like when we're in the U.K., we'll have Bangers and Mash, and of course, I love the food in Italy."
Italy is also one of Ramone's favorite places to play – it's because of the rowdiness, he said. The audience is 90 percent dudes in countries like Italy so it tends to be a little more physical.
"There's a good base in the U.S., but I really like to have the big crowds, and that's what we get over there," he said.
Ramone continually tries to keep it fresh, alternating between drums and fronting.
"I like to keep it real and that's how I do it," Ramone said. "I'm a drummer first.  But I can't sit behind the drums all night, I need to connect."
And in the meantime, Ramone has been connecting with his life.
When he's not drumming or belting out some punk music before a crowd-surfing audience, like he recently did at a Hollywood gig, he enjoys writing songs and playing a little golf.
"I can't complain," he said. "Life is good."