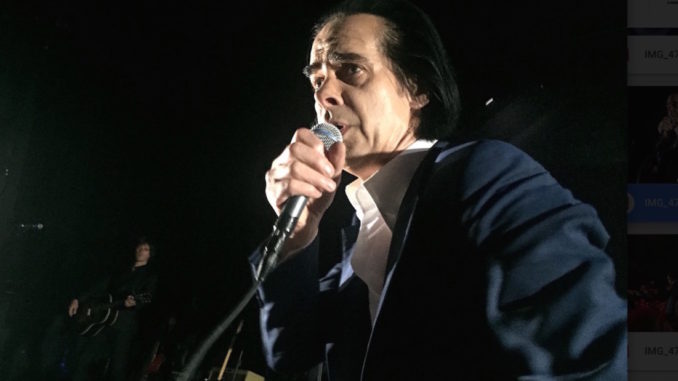 By DONNA BALANCIA
Nick Cave will tour a short series of on-stage conversations with audiences in Boston and New York, it was announced.
Cave says he got the idea during his 2017 Nick Cave & The Bad Seeds world tour and Q and A sessions he had during that time.
"To be honest I am not sure what is going to happen at these events," Cave said in a release.  "I have always loved the Q&A format – not the formal onstage interviews that precede them but the questions from the audience afterwards.
"The audience tends to ask more challenging, revealing, playful and ultimately serious questions," he said. "You never know what you are going to get. They can be fearless and they can go deep. There has been a connection happening with the audience through the recent live shows where we have all shown a kind of willingness to open up and I thought that a direct conversation with the audience might be valuable.
"The more frank and intimate the questions, the more interesting the evening will be. The audience can ask me anything and I'll do my best to answer. I do have some things to say. I can always play some songs at the piano if it all goes horribly wrong. But, I don't know, I've got a good feeling about this one."
The Q and A sessions with Nick Cave are as follows: April 30 at Academy of Music Theatre in Northampton, Mass.; May 1 Boch Center Shubert Theatre in Boston, Mass.;  May 3 at the Peter Norton Symphony Space in New York City and May 5 at The Murmrr Theatre  in Brooklyn, N.Y.
Last year, Cave had an extremely successful tour with stops across the U.S. including New York City and Los Angeles.
Tickets go on sale Friday March 9 at 10 AM EST at nickcave.com