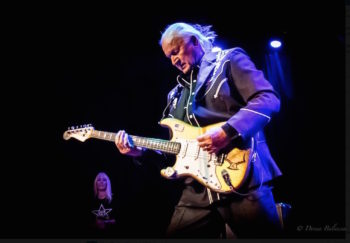 By DONNA BALANCIA in SAN JUAN CAPISTRANO — For The King of the Surf Guitar, music is the medicine.
"I have to perform to stay alive," said Dick Dale, whose trademark surf sound defined a generation and has since the sixties inspired musicians around the world.
"My mind is what pushes me through," Dale told East Coast Rocker. "The doctors say, 'You're a tough son of a bitch. But let me tell you, I rode the pain train all through my operations."
At 76 years old, Dale, who doesn't smoke, drink or take any drugs, has had his share of health issues.  Cancer and diabetes are atop a long list of diseases he battles with the help of his wife, Lana, who only leaves his side when he's on stage.
Dale is in the midst of an East Coast swing and the touring is non-stop.
But Dale, who came to California as a child said he'll always love playing his home state and has a fondness for Southern California in particular.
But his words are not so kind for others.  His illnesses have given him new insights into the failings of the healthcare system, particularly what he considers the disregard of lower-income retirees and veterans who have fought for our country.
"What is happening to our troops from a medical standpoint?" Dale asked. "What happens when they come home?  I am blessed because I have my wife, Lana, but what do these troops have?  They left their wives, their newborns, their families to fight for us, many have lost limbs and they come home to get no reward, whereas the politicians get insurance for the rest of their lives.  What are the wounded getting?"
Dale, himself, was in the Air Force and was commended for his successes as an Air Force Firefighter.  He wants the servicemen to be cared for and he doesn't appreciate the supposed groups soliciting funds on their behalf over the telephone.
"I got all sorts of people calling to ask for money for the servicemen, the police and the firefighters, but I know that only a little bit of the money goes to them," Dale said. "A friend of mine advised that anyone who wants to give money should bring the money directly to the source."
Dale has succumbed to the sensibility of dietary restrictions, like cutting out sugar. He loves grape leaves and tabbouleh, much in keeping with his Lebanese heritage.
His music developed because of his Lebanese heritage as well, as he was always interested in working with Egyptian and Arabic beats and tunes.  His famous Misirlou and his vast and legendary collection of surf songs was inspired by those familiar Middle Eastern sounds, only played at triple speed.  Back in the 60s, it wasn't initially accepted — not because of the region of origin — but because of the guitar.
"They called it devil music then," Dale said. "Yes, that's really true."
The stories are well-documented that he and his father, who helped Dale book a gig at the Rendezvous Ballroom in Balboa, would only get a permit to play if the kids attending wore ties.  Dale's dad grabbed a box of ties to hand out to the bare-footed surfer kids who wanted to attend the show, and history was made.
Dale had a strong relationship with Leo Fender who was like his second dad, Dale said and that friendship would last through the years.
His music survived the years, through the ups and downs, and while it has been debated that The British Invasion cut short the full potential growth of the surf sound, Dale was luckier than most musicians to get another shot at major fame.
Dale recalled the night when a young movie director came a knocking at his dressing room door. The director was Quentin Tarantino and he had something great in mind for Dale.
"He said, 'I listened to your music and I want to create a masterpiece of a movie that complements the masterpiece of music you created.'"
The movie, of course was the 1994 feature film "Pulp Fiction."  The film would breathe life into the careers of several of its participants besides Dale, most notably John Travolta, who had been fighting a stigma of typecasting from his more recent feature comedies.
"Quentin told me he had had doors slammed in his face," Dale recalled. "And he was very humble.  And because he was humble, I took a liking to him.  He said, 'I have John Travolta,' and I said 'OK, sure, go for it.'"
When the film was completed, Dale said, Tarantino sent a limo for Dale to come to a special screening.
"The success of the film gave Quentin the last laugh because everybody shut the doors on him," Dale said. "And it gave Travolta the last laugh, and so on."
But for us and for The King of the Surf Guitar, it's easy to tell that despite it all, he's laughing — and his laughs are far from his last.
CLICK HERE TO SEE DICK DALE VIDEO