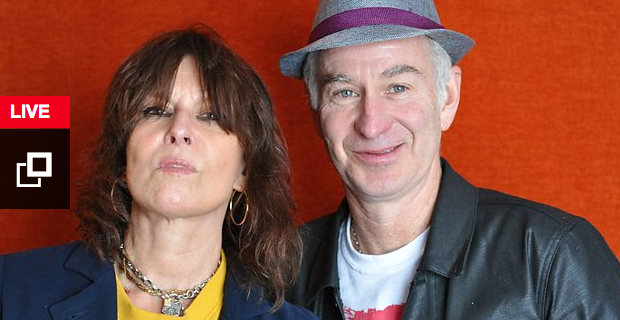 By DONNA BALANCIA — Chrissie Hynde and John McEnroe love to have fun, and the two pals hosted BBC6 Music Sunday. While Hynde waxed philosophical about musicians and their histories, McEnroe won over the audience with his well-known self-deprecating humor.
The topic?  Hits and Misses in Music.
Among the Hits?
– Oasis –  "But I think they could have been a lot bigger," McEnroe said.
"They didn't tour America, they always had  a fight and came home, shades of the Kinks," Hynde said. "They're just one of those great bands that didn't quite get to where they could have been," McEnroe said.
 – Morrissey –  "… a guy who actually left his band, well, the band split up and he went to on to become more magnificent and successful, " said Hynde.
"You don't think The Smiths could have been bigger had Morrissey stayed in the band …" asked McEnroe. "They could have been bigger, definitely," Hynde agreed.
The misses came mostly by virtue of McEnroe's social blunders, he said.
– On meeting a living legend:  "…He asked me two questions," McEnroe said. "He said to me 'I hear you're a good guitar player…'  But I had to tell the truth, 'No I'm not good.'  The other thing he said is, 'I hear you're a great basketball player, you can dunk a basketball…' and I had to again tell Bob Dylan that in fact I couldn't dunk a basketball and he walked away in disgust and he's never spoken to me since."
Another time that was a miss involved a faux pas he recalled to Hynde:
"…That time you brought me back, the only people in the room were you, George Harrison and George Harrison's son Donnie, Bob Dylan and there was one other person who I didn't recognize at first… God I wish I didn't say  'I'm John McEnroe, who are you?' and he said 'I'm Bozo the Clown' and it was Van Morrison.  And on that note we're gonna  play 'Tangled Up in Blue' because that's how I felt, 'Tangled Up in Blue,' after screwing that up."
Hynde and McEnroe seemed to disagree on the influence the Velvet Underground had on music.
"What good band wasn't influenced by the Velvet Underground? I saw the Velvet Underground,"  said Hynde.
"I met Lou," said McEnroe of the late Lou Reed, "He was a New York icon and we talked about doing a radio show."
Hynde said: "He was more of an intellectual than you."
"He made me seem like a nice guy, he was a little irritable," McEnroe said.