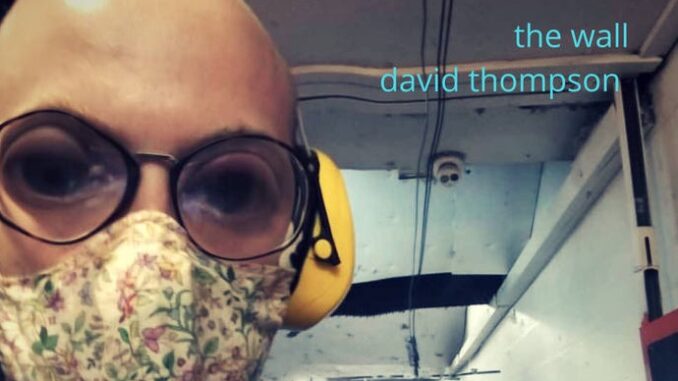 By JOHN DALY
David Thompson, a Philadelphia lover of everything post-punk released his new EP the wall and this is some really fun new music. And clearly the wall is one of the best EPs of 2020 to this point.
This is no idle claim and especially considering most musicians may have been home creating, Thompson has had his share of competition for the listener's ear. While this year has been chaotic on so many levels, the wall unintentionally captures the feelings we've had during this time of quarantine and unsocial distance and puts on a new spin practically inventing a new music genre to lift the listener up.
The tracks have catchy melodies blending a range of observational lyrics and fun stanzas — ready to take on whatever issues may come our way. But the album seems to encourage strength beneath the fun exterior, much like humans must be today. There is strong musical work here on many levels.
Listen to the wall on Spotify and check out the video for "time:"
Thompson's voice is unique and has an eternally doomed yet somehow optimistic quality, capable of taking the listener to a way-off place, enabling much needed escape to adventure. Thompson's the wall contains many references of a bygone era, but one of the more direct tracks is the tribute to free time with the EP opener called "time."
"time" could now be seen as something that captures the past. Young people today may not know that getting together and having free speech were part of our lives. The song takes on a new meaning today, where people seem to have a lot more time — or a lot more time to fill while at home.
The title track is blended fun, upbeat digital bop with a melody not unlike a LaRoux tune. And like LaRoux, David Thompson appears to draw inspiration from some of the great digital bands of the 1980s. There is also some impressive clangy guitar work on this one, which guides the track in a different, more alt-ish direction.
"The Goon Can't" is a romantic track that conjures up reminiscent feelings of those times when you can't let go. The staccatto beat and hummingbird-like electronic background opens to a chorus that takes us down a winding and compelling music path. And like a good drama, leaves the listener aloft.
The great tune, "Clair" is a winner for anyone who likes the sound of the groovy 1960-style psychedelic rock. It's easy to picture young people at a party, wearing bright colors and miniskirts and wide ties in turquoise and orange, snapping fingers and doing The Skate. The Grateful Dead would be proud of this tune.
The EP ends on a Devo-like fast beat digital beauty called "Obsession" that's carried by fun vocals and lyrics that indicate — what else? — the desire to get to the truth. What happened here? Some frantic, frenetically paced panic, apparently. It's a wonderfully compelling, robotic dance tune that brings out the best in human emotion. It is clear Thompson would have fit in well performing in New York City in the 1980s. His personality and buoyant sound carries the post-punk attitude and fun.
Bravo Dave Thompson for creating a new sound that takes us on a journey less traveled, and for inventing some great music we actually want to hear again and again.