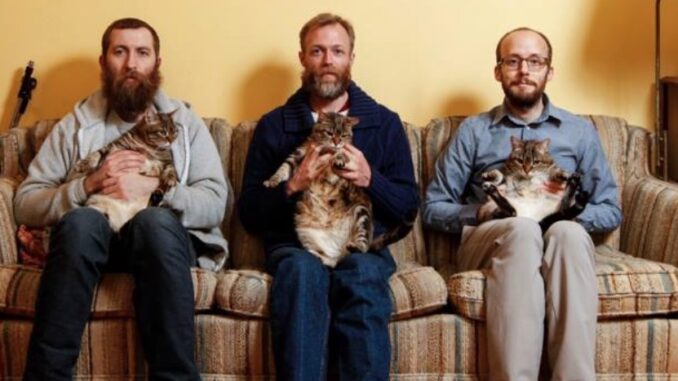 By DOTTIE PARIS
With the new album Yes My Love I Am Reaching, Magical Beasts a listener may think the band has the wrong name. This exacting and delicate Americana sound comes from gentle people and not beasts, magical or otherwise.
The new album from the band is a mellow and emotion-filled collection of heart-rending tunes. The songs are perfect for a night of getting together with friends over dinner or being alone with a special person.
Magical Beasts are a Chicago based folk ensemble led by Nathan Paulus.  The core of the group consists of Nathan Paulus, Josh Miller and John Herbst, For each album different Chicago musicians and artists are sought out to collaborate. The project is Nathan's passion and primary form of art expression.
There is an Americana tone to the album and gives a tip of the hat to a deliberate and graceful version of Lumineers type tunes.
"These songs are a mix of love songs, along with songs that are like love songs, but to the deepest parts of you, the spirit and beyond," the band said. "The songs are not religious. The aim is that in singing or even listening there is a yearning or reaching out to something beyond what you can possibly comprehend."
Beyond the love aspect, the mastery of the instruments, whether violin or guitar, is impressive and the vocals bring out great harmonies.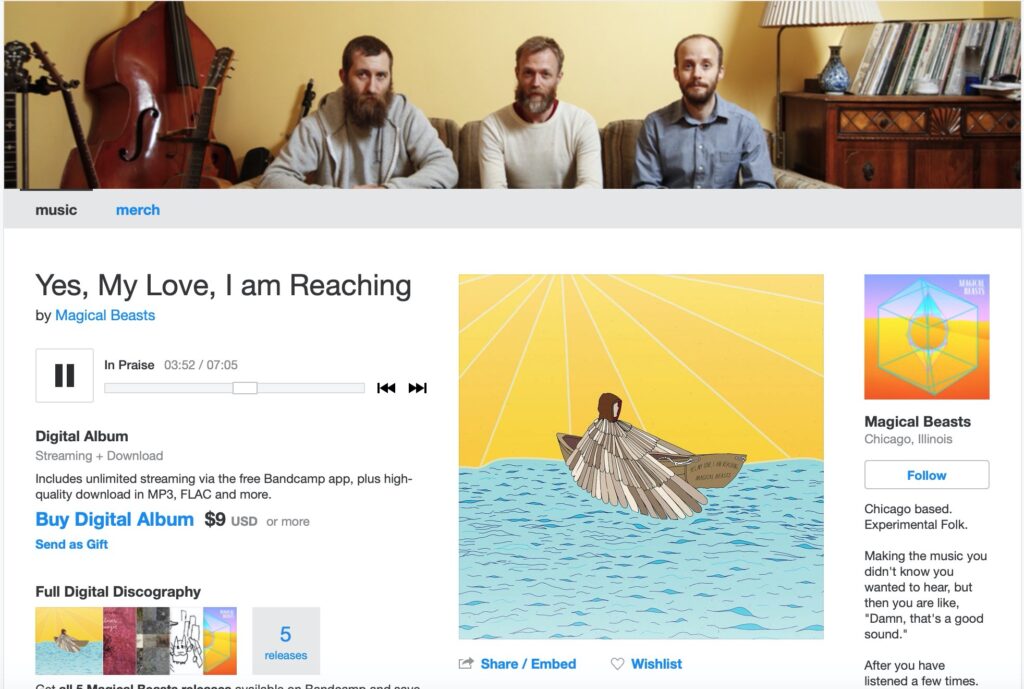 Artist: Magical Beasts
Release Title: Yes, My Love, I am Reaching
Release Date: Dec 20, 2019
Location: Chicago
Produced by: Nathan Paulus
Genres: Folk Music, Americana, Singer Songwriter, Devotional
Similar To/RIYL: Nick Cave, Sun Kil Moon, Leonard Cohen, Bill Callahan
Musicians:
Nathan Paulus: Vocals and Guitar
John Herbst: Vocals, Banjo and Ukulele
Josh Miller: Vocals and Bass
Matt Carroll: Drums
Ethan Pikas: Pedal Steel, Dobro and Banjo
Jess McIntosh: Vocals and Violin  (Darling, 7 Nights, Little Buds)
Sharon Hoyer: Vocals    (Farthest Shore)
Katie Stimpson: Vocals  (Farthest Shore, Come Find Me, In Praise)
Joseph Dittman: Fender Rhodes  (In Praise)
Tracklisting:
1. Come Find Me
2. 7 Nights
3. Darling
4. In Praise
5. Little Buds
6. Farthest Shore