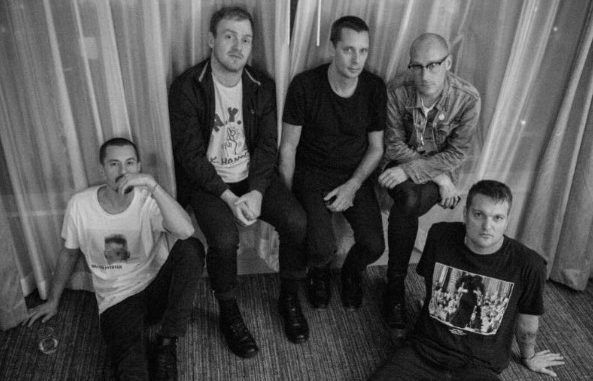 Cold War Kids have released Audience – a live album comrprised of the band's greatest hits.
Pre-order Audience on vinyl or CD at shopcoldwarkids.com. The release features three exclusive bonus tracks.
Audience was recorded at The Georgia Theatre in Athens, GA last September 24.  The album gets its name from a song on the Cold War Kids' 2010 EP Behave Yourself.
Audience features songs from each of the band's six studio albums, including "We Used to Vacation," "Hang Me Up To Dry" and 'Hospital Beds" from Cold War Kids' 2006 debut, Robbers & Cowards, and "Miracle Mile and "Bottled Affection" from 2013's Dear Miss Lonelyhearts.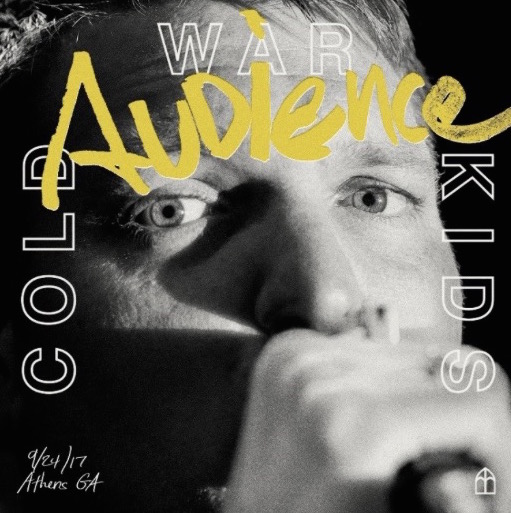 The band's most recent releases are represented with "All This Could Be Yours" and "First" from Hold My Home (2014) plus "So Tied Up," and "Restless" and "Can We Hang On?" which originally appeared on LA Divine, the band's 2017 sixth studio album. See below for track listing.
Watch the video for a live version of Cold War Kids' new single,  "Can We Hang On?" HERE.  Nathan Willett describes the track as "a hopeful love song that looks back with nostalgia on the good old days but is uncertain about the future."
Tickets are now on sale now for Cold War Kids' North American headline tour, which launches May 21 at The Rustic in Dallas.  The band will also perform at several 2018 festivals, including Hangout, LaurelLive and Firefly. Visit http://www.coldwarkids.com for more information.
Cold War Kids are Willett, Matt Maust, Joe Plummer, Matthew Schwartz, and David Quon. Formed in 2004 in Fullerton, CA, the band has sold more than 800,000 adjusted albums, over two million singles, and racked up over 200 million streams to date. Released in April 2017, LA Divine has sold over 100,000 adjusted albums globally and racked up more than 100 million streams.
Track Listing – Audience
All This Could Be Your
Miracle Mile #
Hot Coals ###
Louder Than Ever ****
Hang Me Up To Dry *
Can We Hang On ##
Restless ##
Mexican Dogs
Bottled Affection #
So Tied Up ##
We Used To Vacation *
Cameras Always On
Hospital Beds *
First ###
Audience ***
Somethings Not Right With Me **
* from the album Robbers & Cowards
** from the album Loyalty to Loyalty
*** from Behave Yourself EP
**** from the album Mine Is Yours
# from the album Dear Miss Lonelyhearts
## from the album LA Divine
### from the album Hold My Home
Cold War Kids – North American Tour Dates
5/18      Gulf Shores, AL                 Hangout Music Festival
5/20      Houston, TX                      Love Street Music Festival
5/21      Dallas, TX                          The Rustic
5/22      San Antonio, TX               The Rustic
5/24      Chattanooga, TN             The Signal
5/25      Winston-Salem, NC        Gears & Guitars
5/30      Charleston, SC                  Music Farm
5/31      Jacksonville, NC               The Tarheel
6/1        Asheville, NC                     The Orange Peel
6/2        Burgettestown, PA          KeyBank Pavilion (supporting Jack White)
6/3        Knoxville, TN                     The Mill & Mine
6/5        Fort Smith, AR                  TempleLive
6/7        Columbia, MO                  Rose Park
6/8        Kansas City, MO               Coors Light Friday Summer Concert Series
6/9        Louisville, KY                     Mercury Ballroom
6/10      Russell Township, OH     LaureLive
6/13      Columbus, OH                  Newport Music Hall
6/14      Richmond, VA                   The National
6/15      Dover, DE                           Firefly Music Festival
6/16      Syracuse, NY                     New York State Fair – Chevy Court Stage
6/17      Baltimore MD                   Rams Head Live!
6/19      New Haven, CT                 College Street Music Hall
6/20      Portland, ME                     State Theatre
6/22      South Burlington, VT       Higher Ground Ballroom
6/23      Hamilton, ON                    Tim Horton's Field (supporting Arkells)
6/26      Omaha, NE                        The Waiting Room
6/27      Bellvue, CO                        Mishawaka Amphitheatre
6/28      Ogden, UT                         Ogden Amphitheatre (co-headlining with Metronomy)