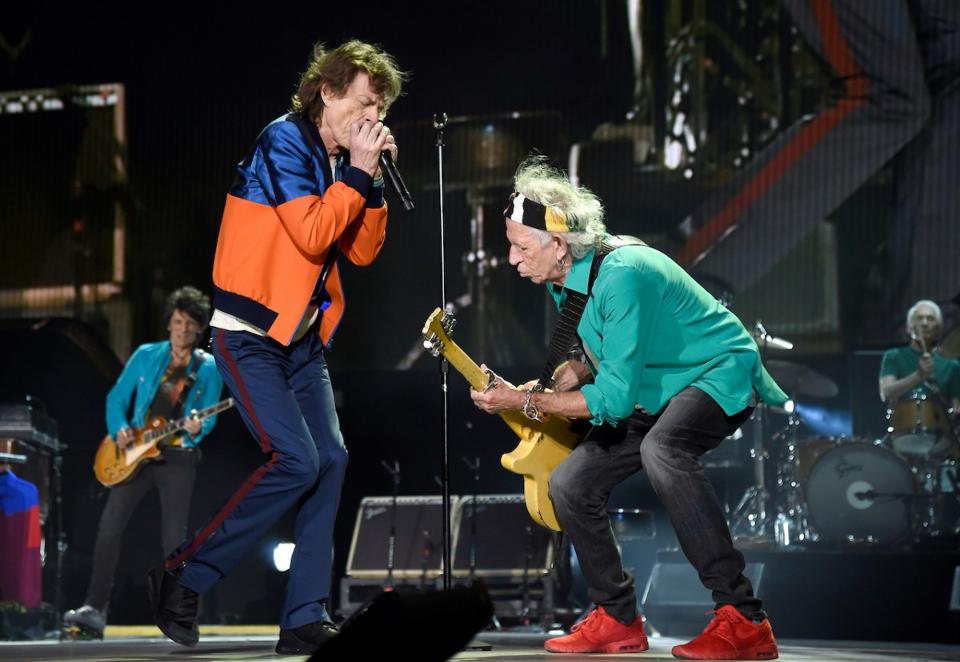 By BOB BUSBY
"Welcome to the 'Catch 'em before they Croak Festival!'" Mick Jagger greeted the sun baked throng of 75 thousand gathered at the Polo Grounds in Indio, California for the second weekend of Desert Trip the music festival featuring six of rock's penultimate iconic artists – Bob Dylan, The Rolling Sones, Neil Young, Paul McCartney, Roger Waters and The Who.
Bob Dylan, The Rolling Stones
Mick and the boys had followed a spirited set by Bob Dylan who despite failing to utter a single word to the audience, still delivered a quality set with several crowd pleasing selections spanning his 50 year career. Opening with "Rainy Day Women #12 and 35" (Everybody Must Get Stoned); other selections included "Don't Think Twice. It's All Right"; "Highway 61 Revisited"; "It's All Over Now Baby Blue"; "Tangled Up in Blue". He also played his classic "Like a Rolling Stone" for the first time in nearly three years. (Videos courtesy of Prestoff2000)
The Rolling Stones, like Dylan and Neil Young too — who we'll get to later and in my opinion stole the show — did not play identical sets from the previous weekend, choosing to vary things up a bit. There may not have been a head exploding "whoa!" moment like doing the Beatles' "Come  Together," but amazingly, of the first 11 selections of the Stones' set 7 of them were not done the week before.
In what would prove to be a recurring theme over the weekend time was taken to acknowledge the noteworthy occurrence of Dylan being awarded the Nobel Peace Prize the day before with Mick noting "We have never shared the stage with a Nobel Peace Prize winner before. Bob is like our own Walt Whitman."
Neil Young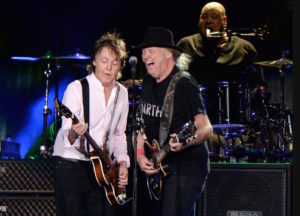 Saturday night saw a vintage Neil Young firing on all cylinders. Opening with a few classic acoustic numbers "After The Gold Rush," "Heart of Gold," and "Old Man" then signaled the end of those oldies with "Comes a Time" and "Helpless."
The most magical moments arguably of the festival occurred when he performed "Harvest Moon" with literally a super full moon rising in a cloudless sky for all to see which when projected on the giant 240-ft-wide screen and taller than the towering palm trees the moon's image was gigantic.
A moving performance I suspect I and all in attendance will long remember. However, whereas none of the six festival's acts had to come out of retirement and all tour continually with consummately professional productions, it was Mr.  Young who stood apart from the others by the sheer force of his vitality. He and his band The Promise of The New Real featuring Lukas Nelson son of Willie Nelson proceeded to burn the place down with incendiary playing, highlighted by a jaw-dropping "Cowgirl In The Sand" clocking in at 19:07.  Neil also made note of Dylan's Nobel Peace Prize saying looking at his watch saying "We started five minutes early so we could fuck around like this!"
Paul McCartney
Sir Paul McCartney followed with his customary hit filled show featuring songs spanning Beatles', Wings, and solo career with songs that everyone knows every word to and gleefully sings along with. Surprise guest and highlight was Rhianna coming out to sing their collaborative 2015 hit "FourFiveSeconds." Rhianna dressed conservatively for her in a patterned frock albeit with a severely plunging neckline sounded fantastic and seemed thrilled to be there.
Paul had Neil come out to do a wonderful "A Day In The Life" into "Give Peace A Chance" and then a debut for Paul with "Why Don't We Do It In The Road", a wild and raucous rendition where Neil was let loose to shred and boy did he ever. Sir Macca's show's have been virtually the same for a decade but the underlying all you need is love communal feeling is tailor made for music festivals. I am certain Beatles' songs will still be sung in a hundred years.
The Who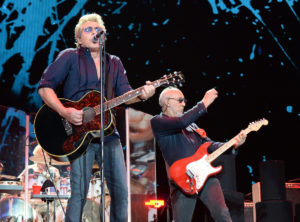 Sunday's final night saw The Who in the opening slot surprising it seemed many people including myself. Again, another constantly touring excellent production technically. However, the first slight vibes of complaint came from The Who first before a note was even played with Roger Daltry asking if someone could turn off the fan, referring to the hot desert wind which was constant at that point.
Then after the second song, "The Seeker," Pete Townshend asked the crowd "Are you tired?" apparently referring to the less than wildly enthusiastic reception.
Regardless, The Who executed their 22-song set with the consummate skill we've come to expect from them over the past few decades.
Roger Waters
As the final act, Roger Waters' set was mesmerizing and the sound was astounding. He reportedly spent many days working on the sound and he took full advantage of the tremendous array and placement of speaker towers throughout audience. Sound, both musical and effectual, came from any direction at any time. Time and time again there would be the sound of a helicopter, or plane, or God knows what else that would cause everyone to look in whatever direction expecting to see that helicopter or plane. It was that realistic.
A Pink Floyd fan's fantasy come true the song list was comprised entirely of Pink Floyd songs, eschewing Roger's solo material, sometimes going way way back and way deep. Waters' shows are always a spectacle comprised of spectacles. The flying pig has been a staple of the shows for decades however this time around the pig was imprinted with the image of Donald Trump in conjunction with images and messages on the giant screen on stage many of them way past R rated that left no doubt the level of detest Mr. Waters has for Mr. Trump. Interestingly, songs like Mother are amazing for how completely relevant they are to today's times. Predictably, "Comfortably Numb" was the closing number and as usual was magnificent.
Lastly, it would be a crime not to mention the real star of the festival which was the venue itself. Veteran concert goers with hundreds of shows and a score of venues under their belts like myself walked around in awe marveling at the facilities, vendors, lighting, exhibits, food. Even the parking and traffic was handled exponentially better than at any other big shows I've attended. Seriously, a model for how to run a festival. A huge tip of the hat to the organizers who hit it far far out of the park.