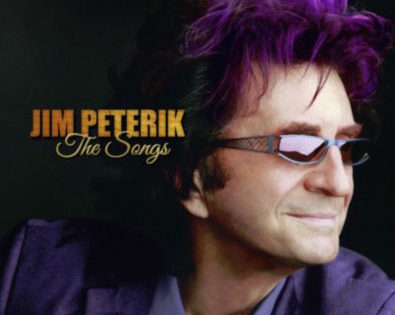 Fan-Curated Album of Chart-Toppers Hits the Market
By DONNA BALANCIA – Jim Peterik's new album, The Songs, is appropriately named.
The creations on Jim's new album include some of the biggest hits of our time, like "Eye of the Tiger," and "Hold On Loosely."  He wrote them for super bands like Survivor and .38 Special, but now Peterik performs them unplugged on his new album, The Songs.
He keeps his light under a bushel. In addition to writing the famous Rocky III theme, "Eye of the Tiger," by Survivor, a band he founded, and "Hold On Loosely," there are a host of other chart-toppers. His first mega-hit was the 1970 song "Vehicle," originally performed by his first band, The Ides of March, and then covered by Blood, Sweat and Tears.  Jim was only 19 at the time "Vehicle" soared to success.
But The Songs, takes tunes selected by him — and his fans — and gives them a new treatment, all unplugged, which is a departure from the big, electric sounds that gave the songs their pathway to the top of the charts.
"I'm really proud of this album," Peterik said. He admitted it wasn't really in the plans to come out with an album of all his hits that he would perform, but he went with what the fans wanted.
Chart-Topping Hits Curated and Re-Imagined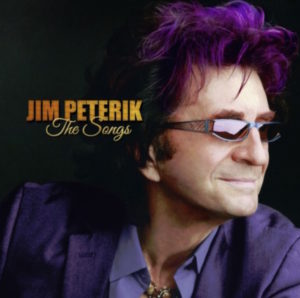 Among additional songs Jim has redesigned and which he performs on The Songs are: "Caught Up In You," by .38 Special and "High On You," and "Is This Love," by Survivor.
The Songs was a Pledgemusic project and now Jim's a big believer in the process of self-funding.  Those who pledged money to help produce the album received some very special gifts and honors.
"The whole pledge music was a neat thing," he said.  "We had the fans pick out the songs and the album shots and that was cool. I offered various cool things, we even had a songwriting seminar via Skype, held at one of the houses in Minneapolis."
"There were some I knew I had to do and some I wanted to do," Jim said. "I wanted to do a reimagining of 'Vehicle.'  I didn't know what I would do with it and I wanted to re-do 'Eye of the Tiger.'" Buy The Songs on Amazon
Fred Mollin, Producer
Jim selected producer Fred Mollin, who produced Jimmy Webb's 10 Easy Pieces to help him create the sound on The Songs.
"I was so blown away by album I played over and over; turned out he's a big fan of my songs, he said, 'Why don't you let me produce the album?'  We got into preproduction we took it song by song and one by one we reinvented them," Jim said.  "Who would have thought to put a banjo to 'Eye of the Tiger?'  Fred said, 'Now picture it with a fiddle and I was starting to drink the Kool Aid.  The fans picked 'Caught Up in You,' which I wrote for 38 Special. I'm really proud of this album."
He should be.  Jim takes these tried and true hits and turns them into completely new creations.  He adds a country twang to "Eye of the Tiger," He gives "Caught Up in You," a symphonic treatment and "High On You" is reimagined as a Calypso tune.
Jim admits that it took him a little bit of of time for him to go with the flow.
"I've been gun-shy of producers who don't have vision," Jim said. "But Fred totally changed my mind."
Today's Music
Being from Chicago, where brass has been an integral part of rock music for decades, what does Jim think about the lack of a horn section in the music today?
"To me, horns never went out of style, and I think we helped put the brass sound on the map. I think it's gonna be the next big thing. the acms with brass is definitely in the country scene in the show. if you add brass to a live show it really adds a lot.
Advice for the aspiring musicians?
"Do it because you love it, there's no easy buck," Jim said. "You have to think of yourself as a live act. Making money on the road and sell merch. The mechanism isn't there any more. The money from iTunes is miniscule. Concentrate on original music, get your message out through digital media, and keep building your fan base. There are so many conduits to expose the music. Don't be afraid to give it away in favor of exprosure. Give them verses and chorus. Cut a simple video and post it on Youtube. The days of talent scouts are over."
Survivor was Scouted
Jim remembered how back in the day, he was scouted and how Survivor was signed.
"With Survivor, John Kalodner of Atlantic signed us in 1979, so we were scouted.  We went into SIR studios, John had this beard and long suit. He said, 'What else ya got?'  He liked one of our songs that never became a big hit but proved to him we could write.
"John signed everyone, he signed Aerosmith, Peter Gabriel, he dressed up in a wedding dress for Aerosmith pump video.  Those days are few and far between. not to say you can't strike lightning in a bottle and become a sensation. But it could be that someone will be in the audience who works for a label. But don't get into it thinking you're going to be the next Adele, but talent will out."
Jim Peterik: Music was 'My Calling'
"It's all I ever wanted to do," he said. "I had two older sisters and at this time, Elvis was coming on the scene. I knew that's what I wanted to do. Then my sisters would bring home the 45s of Jerry Lee Lewis, and the Everly Brothers.  It was the perfect way to grow up in music. Hully Gully Bay was the place, some place to Hully Gully. My dad bought me an electric guitar, I played in front of the class and the people went nuts I was the most popular boy in 7th grade. I was feeling like I was on mission."
The Songs is being distributed through iTunes and Amazon, but vinyl is not out of the question, Jim said.
"I love it, but 's very expensive," he said.  "I love the idea of vinyl, but right now, there's such a glut at pressing plants, there's a wait. It's more popular than it's been in years.
Touring, Performing and Life
He's been touring to support the album and he's also been touring with The Ides of March.
"In a nutshell I met my wife Karen 43 years, met her in line to see the Turtles in 1968, she went to a  different high school. we were in line and I was looking at this gorgeous girl, she turns to me and says 'Aren't you Peterik? I just saw your band, The Ides of March,' and we picked it up and never looked back.
Married since 1972, Jim and Karen had son, Collin, who plays with Jim and his band, and now Jim and Karen are new grandparents.
"My father was a sax player on the weekends, so my family always loved music," Jim said. "I never pushed Collin into music, I let him take his course. iIteach by example not by lecture and I'm happy he's found his way."
In today's political climate, does music fit in?
"Songwriting for me is the greatest agent for change," Jim said. "We are trying to change the world through music. Instead of moping around, when we get on stage we are triumphant. There's nothing like people breaking out of a bad mood. Music brings hope."
For more information on Jim and his music, check out his beautifully designed web page at JimPeterik.com and the Jim Peterik Facebook Page.