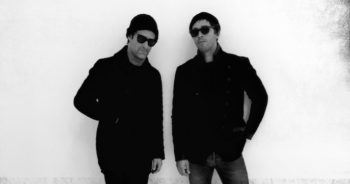 By JOHN DALY
NYC indie duo, Monk Tamony, officially released the next installment off their forthcoming self-titled debut EP, Monk Tamony. Listen to "Leaders" and check out the official music video here.
The official music video for "Leaders" was shot at Overthrow Gym on Bleecker Street in New York City. Overthrow Gym is inside of a building that was once the home base to prominent counterculture leaders. The Yippie party's headquarters were based there, and Abbie Hoffman was a frequent visitor.
Inspired by social and political activism, Monk Tamony filmed the "Leaders" video on this year's Super Tuesday.
The band notes, "As for the boxing motif, in connection with the current political climate, you can form your own opinion there!"
"Leaders" follows debut single, "Back Of The Building."
Comprised of TJ Rosenthal (Vocals, Guitar) and Joe Zdaa (Drum, Vocals), the two-piece band produces super charged, hard-driving rock with unmistakable New York City attitude.
Zdaa and Rosenthal first met in 2002 at Dark Room, a discreetly hidden bar on Ludlow Street on Manhattan's Lower East Side. "Joe was a bartender," describes Rosenthal. "And I was a DJ and a regular patron. It was always a scene, and I'd go some nights just make sure I wasn't missing anything."
In the fall of 2015, Monk Tamony put the finishing touches on their debut EP. The dynamic duo has already garnered new fans along both coasts and while Zdaa and Rosenthal might call Monk Tamony a happy accident, it's clear that they're purposeful about their craft. Their EP is coming later this summer and will be available for purchase on vinyl.
"I can't wait to see where the Monk Tamony story goes," shares Rosenthal. "The fun part is not knowing. But, as long as we continue to make songs that mean something to us, we'll continue to put them out there."