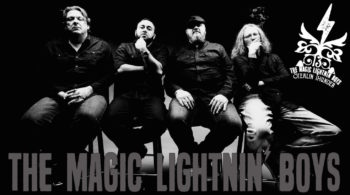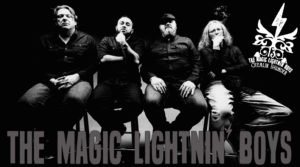 With Magic Lightnin' Boys, the South (Of Ohio) Rises Again – Review
By DONNA BALANCIA
The Magic Lightnin' Boys have done what the U.S. couldn't do in more than 100 years of trying.  The band has united the South and the North.
With ripping guitar, cool songs and a charismatic frontman, the Magic Lightnin' Boys take Southern Rock, add their own funky style, and the resulting blend is hot Rock N Roll.
They've got a new album called Stealin Thunder, and it sure is appropriately named.
It's like these Cincinnati guys took every Southern rock song from the heavens, blended in their own harmonica-laced upbeat funk, and thrust the genre down upon the people like a bolt of lightning.  Maybe that's how the band got its name, because these Magic Lightnin' Boys really give a charge.
Quasi-Swampy Tone
Magic Lightnin' Boys are powered by lead vocalist Casey Gomez, whose deep and rowdy yet melodic voice sounds like a combination of Robin Trower and Darius Rucker, except this guy is more like Hottie and the Blowfish.  Stage presence he's got.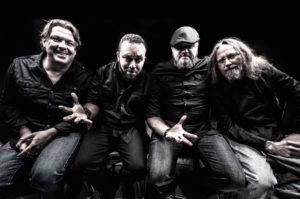 Gomez' voice has a quality that gives the group a retro bluesy sound, underscoring a truly American and quasi "swampy" tone.  The guitar work and bass is aces and it's apparent that the Lightnin' Boys are influenced by Marshall Tucker and the Allman Brothers.
One of the reasons we say this is because we heard the cut "April Rain."  The song has some resonant sounds and cool lyrics:
"Good love is hard to find, but one thing they never tell you is it's always better with a cheap-ass bottle of wine.  When she cries it's like April Rain, washing away the pain…"
Not to march out some of the fun old bands of the 1970s, but someone in the Magic Lightnin' Boys is a Pure Prairie League fan, judging by some of the other hot tunes.  It's nice that a modern band can take the old Southern Rock classics and put a new upbeat spin on them.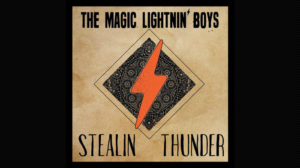 A lot can be said about Brian Tarter's ripping guitar and backing vocals, Richie Lee's out of control bass and Kurt Lipphardt's complicated and combustible work on the kit.
Other standout numbers on Stealin Thunder are "Roll," "The Ride," and "Rubber Side Down," the latter of which is reminicent of Jim Stafford's hit "Spiders and Snakes," only with a faster, fun pace.
It's amazing how a little application of talent, enthusiasm for a 30-year-old genre, and a little updating can create a whole new sound. Bravo to the Magic Lightnin' Boys, a true gem of a band!  Your talent is welcome in the big city.
The Magic Lightnin' Boys will be touring with club gigs and will also hit the festival circuit through summer and into the fall in support of the album.
Check out the Magic Lightnin' Boys website