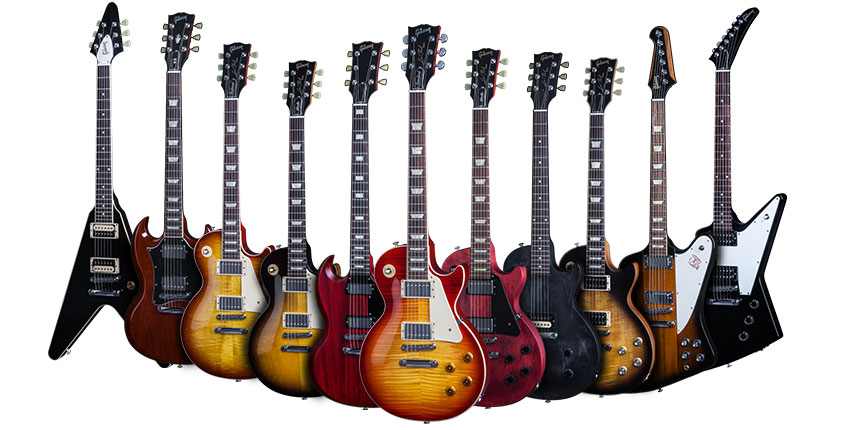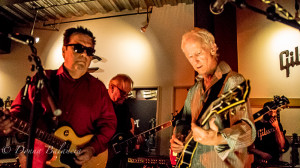 By DONNA BALANCIA – Gibson announced its 2016 Model Year with a launch party in Beverly Hills featuring performances by Los Lobos and Robby Krieger.
Musicians, friends and celebs were on hand as Gibson USA — producer of such well known guitars as the Les Paul, SG, Flying V, Explorer and Firebird — announced its new 2016 Model Year.
Longtime Gibson musicians Los Lobos jammed with The Doors' famed Krieger, while Brian Ray of Paul McCartney's band and Dave Amato of REO Speedwagon enjoyed chatting and exchanging stories.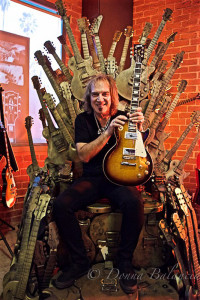 Gibson has been busy lately.  The marketing and sales teams have been going non-stop, bringing the Gibson message — and the famous Gibson Bus — to Nashville, Miami and to L.A. to promote the new Traditional and High-Performance lines.  The company continues to work with musicians like Peter Frampton — and Amato — in developing signature lines and custom products.
"Gibson USA has always pushed the extremes of innovation to help ignite new inspiration for musicians everywhere, while continuing to honor the heritage of our classic, beloved designs that remain extremely vital, desirable and collectable," said Gibson Brands CEO and Chairman Henry Juszkiewicz.
The Traditional models are built to the same specifications as the classic Gibson guitars that have powered decades of hits, but also take advantage of advances in production and engineering that result in superb playability, consistency and superior quality.
The High-Performance guitars invite a new addition to guitar collections, with infinitely customizable action adjustment, titanium hardware, an all-new "fast-access" neck heel for effortlessly reaching the neck's highest notes, enhanced automatic tuning, new fortified aluminum case and multiple deluxe features that redefine the playing experience.

All 2016 Models deliver the signature Gibson sound—tone with depth, resonance, purity, and sustain—thanks to superior tonewoods, pickups, materials, and handmade-in-the-USA craftsmanship. Gibson is known for its playability, with smooth deep-oiled fingerboard, and expert precision setup.
Gibson uses nitrocellulose finishes and more than 100 guitars in both highly-cherished Traditional and leading-edge High-Performance models all players can now connect with their unique passion and style.
For more information go to Gibson.com 
More photos and coverage at CaliforniaRocker.com