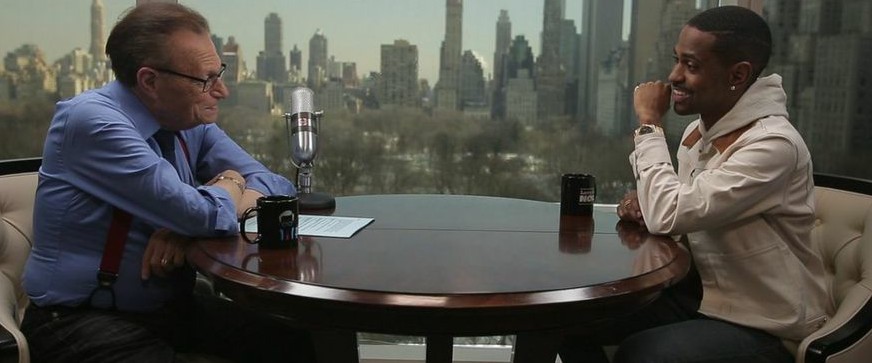 From New York City, rapper Big Sean sits down with Larry King on the Emmy nominated series "Larry King Now"  for a well-rounded discussion about his new album 'Dark Sky Paradise,' learning from boss and mentor Kanye West and recording with girlfriend Ariana Grande.
The rapper weighed in on Kanye West's recent controversial remarks surrounding the rocker Beck, "he's opinionated, you gotta respect it though," and described what West is like as a boss and mentor.
"The stuff I learned from him, the lessons, you know the hours, I'm talking about rewriting verses to just paying attention to the production, just doing every single thing you can to make it the best you can, you know I do that on my own and that's something I learned from him."
Big Sean discussed girlfriend Ariana Grande with King, calling the relationship "pretty serious."  He also talked about whether or not marriage is on the horizon, what their new joint song "Research" is about and dating in the public eye.
Big Sean also explained how he's managed to stay grounded despite all his successes, saying fame and fortune has made him "a better version of the old me."
During King's infamous 'If You Only Knew' line of questioning, rapper Big Sean deemed himself the industry's most underrated rapper.
Additionally, the artist told Larry that he "didn't care" what his record label had to say about his new album Dark Sky Paradise. 
He talked about how surprised he was that "IDFWU" became a radio hit, saying "The first single from the album, you know, obviously wasn't meant to be a radio song. […] I just realized when you do music from the heart and music people can relate to, that's the best way to do it."