Morrison Hotel Gallery owner adds 'Recording Artist' to his vast resume
By DONNA BALANCIA
Peter Blachley would be considered a success in anyone's book, but with the release of his album Nevada Sky, he may finally give himself a pat on the back.
Blachley has climbed the rungs from carpenter and mailroom clerk to record executive and photo gallerist.  And all the while, he had been recording his life experiences in song.
Blachley has finally recorded those songs and has released the collection, called Nevada Sky. With his melodic voice and worldly stories, the upbeat album is a joyful look into the creative mind of a 60s-era Renaissance man.
"I'm a Northern California boy who grew up in the days of the singer-songwriter," said Blachley. "I've had these songs with me a long time."
Blachley's inspiration has come from experiences in different parts of the world over many years. His songs reflect his highs and lows, and they do so in a fun and emotion-evoking manner.
He likes musicians such as Bryan Ferry, Gordon Lightfoot and especially former Kingston Trio member John Stewart, whose album California Bloodlines left an indellible imprint.
"I've always been a seeker of anything I can find that fulfills a passion in me," Blachley said. "I have to do something I love to do. It's about chasing the experience of living. Thank God I have a carpentry skill that helped me survive between jobs."

Blachley was at the forefront of the music video industry of the late 1970s-early 80s, and was the driving force behind some of MTV's most successful videos. But how he got his start was a little different.
"I was living in Hollywood and I wanted to be a musician," Blachley said. "I called Capitol Records and asked if I could have a job. They asked 'What do you do?' I wasn't expecting that, and had to think of something quick so I said 'shipping.'"
He was put in the Capitol Records mailroom, then was promoted to marketing. But because he was bored, he quit. Before he actually left, he met up with a representative of EMI, who put him to work on a new music video project and it was hugely successful and he was asked to come back to Capitol.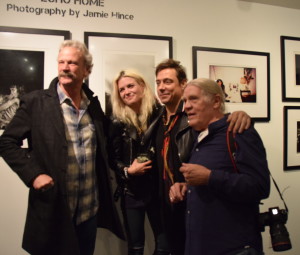 His new job gave him creativity — he was in charge of the production of videos, including "Bad To the Bone," by George Thorogood and a host of other videos including those created for Duran Duran.
By 2001, mainly because of his appreciation for the visual aspect that music inspires, together with photographer Henry Diltz, Blachley opened Morrison Hotel Gallery in New York City's Soho district. Today, Morrison Hotel Gallery has locations around the country.
Blachley said he enjoyed recording all the songs on Nevada Sky, and one or two of them come from the days of living in New York City.
"Salvation Songs," written in the 1970s, is one of them.
"At the time, I was starting to play piano," Blachley recalled. "New York, for some reason, inspired me more than anywhere else I ever lived. There was a gas crisis, Disco was coming, and the era of the '60s songwriter was closing. I wrote salvation songs about where we were all going. In those days I wrote about what was going on around me, including the war in Vietnam."

All the songs on Nevada Sky are appropriate still. Blachley has worked on the songs, and has rewritten and edited them — much like a photographer — from a different angle and perspective.
And, like everyone else, Blachley has learned over the years that life isn't filled only with happy moments.
The song "Love Is Eternal," is a song about loss, but instead of being down and depressing, Blachley wanted to be uplifting.
"It's like I say, 'Love is Eternal, and so are you,'" he said. "I have to write what's in my head."
He said he wrote our personal favorite, "Angelina," when his brother met and married his girlfriend.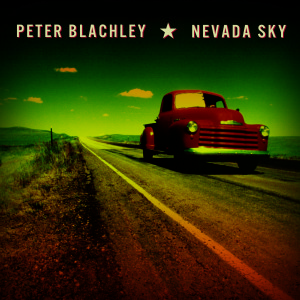 Listening to music and writing music are ingrained in people who grew up in the 1960s, Blachley said.
"We didn't have video games and Facebook that everybody has now," Blachley said. "We had music. That's what we had."
And while he may have wanted to put out a collection of songs for some time, the album Nevada Sky came about in its own time, Blachley said.
"I would bring my guitar to the Soho gallery and people would encourage me to record some of the songs," he said. "So I decided to put out Nevada Sky."
And knowing the music business so well, Blachley has no delusions of selling his music to the teeny boppers.
"I write for my generation because I feel like we've forgotten who we are," Blachley said. "And I write my songs for my generation because that's what I know. And if someone picks something up on in one of my songs, then I'll believe I really achieved something great."
For more information on Blachley go to his website.