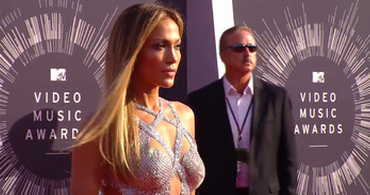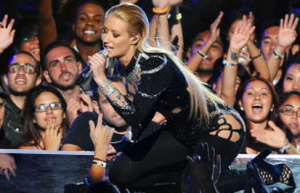 By DONNA BALANCIA in INGLEWOOD, Calif. — Performances by Beyonce; Iggy Azalea and Rita Ora; and Jessie J., Ariana Grande; and Nicki Minaj highlighted the night at the MTV Video Music Awards at The Forum in Inglewood.
There isn't a bad seat in the house in The Forum, a venue we haven't visited since Depeche Mode's Devotional Tour in 1993.
MTV VMAs and The Forum
At the Forum, parking is still an issue, but it may have only been a problem for the MTV event because of Maroon 5's outdoor performances.  Maroon 5 performed "Maps" and "One More Night," which took up a major portion of the blacktop outside the venue.
Say what you will about the performance selections and the "artistes du jour," but the MTV VMAs have come a long way. We covered the first MTV VMA event at Radio City Music Hall, in NYC, when Herbie Hancock and Madonna were the big winners.
Still, no expense is spared and from our seats beside the photographers repping news outlets from around the world, the show appeared to go off without a hitch, particularly Beyonce's dazzling show-closer.
The Forum seats were taken up by guests ranging in age, but an estimated 20 percent of the attendees — appeared to be in the 16-18 range. There was also a strong showing of family groups.
The MTV VMA event is something worth attending, cost of the tickets typically runs in the $150 range and it's well worth the price of admission.
###