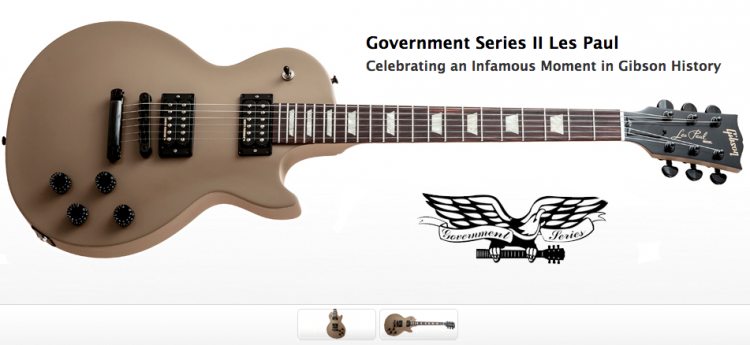 Gibson Guitar Releases 'Government' Line of Les Paul Guitars In Response to Raid
Gibson Guitar Corp. has released a "Gibson Government Series" Les Paul guitar made from the tonewood that was seized — and then returned –by the Feds after a raid of the Nashville and Memphis Gibson factories.
The guitar is made from mahogany, maple and the rosewood that was returned by the U.S. Government, and possesses a "high-gloss Government Tan" finish.
"Great Gibson electric guitars have long been a means of fighting the establishment, so when the powers that be confiscated stocks of tonewoods from the Gibson factory in Nashville—only to return them once there was a resolution and the investigation ended—it was an event worth celebrating," it says on the Gibson Guitar website.
"Introducing the Government Series II Les Paul, a striking new guitar from Gibson USA for 2014 that suitably marks this infamous time in Gibson's history."
The U.S. Fish and Wildlife Service raided the Nashville-based guitar maker alleging the company violated the Lacey Act, which prohibits the import of certain species of plants.
Gibson settled for $300,000.  The guitar sells for a little more than $1,000. — By Donna Balancia