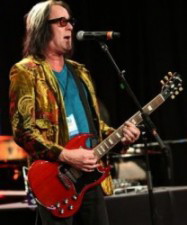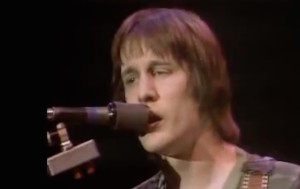 By DONNA BALANCIA — Todd Rundgren will receive the Les Paul Award at the National Association of Music Merchants Show, and fans say it's been a long time coming.
Todd will be presented with the award at the 29th annual Technical Excellence & Creativity Awards during NAMM for his several decades performing and writing music, his producing skills, and continued experimentation in electronic music.
The award recognizes outstanding achievement in professional audio technology and production and will be presented Friday, Jan. 24 at the Anaheim Hilton.
Todd's recordings ranging from "Hello It's Me," and "Can We Still be Friends," to the Boomer vacation theme "Bang The Drum All Day," are known to the masses.  His consistently interesting and artistic live performances may be known to fewer.
But how is it that this prolific musician and producer of such talents as Rick Derringer, Hall and Oates, Patti Smith, Grand Funk Railroad and Meat Loaf could go all these years without a nod from his colleagues?
Maybe, we're told, Todd just didn't clap loud enough at the right times. Or for the right people.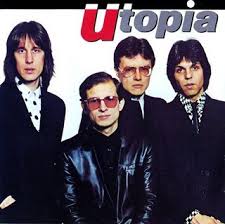 Besides, Todd doesn't have time to deal with professional politics, because he's too busy giving back.
Like the time he and his band Utopia performed during the benefit at South Street Seaport in New York City to raise money after Derringer's instruments had been stolen. Even robotic Roger Powell stiffly glanced up from his keyboard through wrap-around shades to blurt into the microphone in his monotone voice: "It's a beautiful thing."
Over the years Todd's shows have always included some kind of suprise: New wave jumpsuits, a cool new version of a classic like Debussy's "Bolero,"  or a techie treat.
One year we saw Todd play a San Diego stage all alone with two projection screens on either side that simultaneously broadcast his unplugged session.  It appeared as if he did all the adjustments and fine-tuning himself, and, it sure didn't sound like he was up on stage by himself.  The audience was enraptured – the guy sitting next to me admitted his admiration and love for Todd, and alternated between swooning and weeping during the show.
Innovative tech sounds can be heard on Todd's recordings. But technology infrastructure is something that made him a standout. Todd licensed an I-Pad-like slate to Apple years prior to anything similar, and he established a distribution model based on "interactivity" — long  before the word became the mantra of Northern California's Silicon Valley.
But sometimes, Todd's adventures in technology are misunderstood.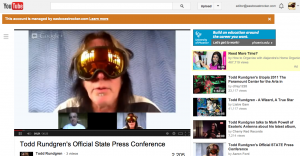 As Bugs Bunny once remarked, "They laughed at the guy who discovered Penicillin," and there may have similarly been a giggle when Todd held a press conference for last spring's release, STATE, via an online Google Hangout session, sporting some fancy glasses.
But it is an evolving era as Todd says, and he's been happy with his laptop and software.  But now his new music innovation will come through a different type of interactivity.
He and Michele are investing time and efforts into their latest mission: Spirit of Harmony Foundation.
"The purpose is to provide support and funding to school programs and other sorts of organizations who are trying to bring music to people who don't have it," said Todd, "Especially in terms of learning how to play instruments, learning how to understand what music is all about and having the opportunity to express yourself through that medium."
UPDATE:  Check out the newly created website for the Spirit of Harmony Foundation