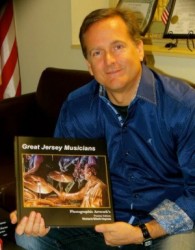 BELMAR, N.J. — Richard Hoynes has accomplished a great deal as a corporate executive, a charitable benefactor and as photographer and writer.  Of course, we know him as Regional Photo Editor at East Coast Rocker.
Richard's latest work, "Great Jersey Musicians," documents some of the musicians he has come to know in The Garden State.
East Coast Rocker:  What sparked your love for music?
RH: I've been into music since I was born.  My mother sang and cut a 78 record back in the day, and encouraged my music passion.  She bought me my first electric guitar, a '63 Fender Jazzmaster, when I was 14 years old.  I sang in choir all through grammar school and sang in a Christian choir in high school.  I taught myself guitar and I write songs, mostly songs about loss and love, like many musicians.
East Coast Rocker:  Why did you decide to incorporate both famous and not-so-famous Jersey musicians in your book?
RH: There are so many great musicians, many of whom are yet undiscovered.  I photographed those I heard who I liked.  To make it big in music is tough, and I think those who are both talented and have good business sense, make it. I also believe you become what you believe you will be.  Many musicians have a "starving artist" belief about themselves.  To be good, you must be hungry.  I think many musicians could benefit from some good business management help.   Though their art is amazing, some of the best artists suffer from self-sabotage in one form or another.
East Coast Rocker:  What's the most memorable experience you've had in your career so far?   
RH: Probably having the honor of meeting Joan Jett and Daryl Strawberry. I started AMA Charitable Foundation in 2010 to help non-profits raise money.   We then hosted a fundraiser for autism for 5 schools for children with autism.  Joan came and brought a signed guitar, some signed records, and a Joan Jett Barbie doll.  I didn't know there was a Barbie doll of Joan Jett!   (See the Joan Jett video here)   I gave her a guitar, that we had the children at Somerset Hills Learning Institute in Bedminster, NJ.,  sign for her.  In a spontaneous moment, someone from the crowd shouted, "Happy Birthday Joan!"   She had just turned 50.  Of course I spontaneously led the crowd in singing the Happy Birthday Song to her.  Of course, after the first verse I realized I was the only one singing.  She was gracious. I think there is a Youtube video of my embarrassing moment, but we had great fun and raised money to help some wonderful children.  (See the video here)
East Coast Rocker:  Who are your musical inspirations?
RH: There are too many to name.  I like all classic rock. The Beatles, The Stones, The Eagles, and, of course, Bruce Springsteen.  I'm actually inspired by some of the great lesser known artists that play the Jersey scene today.  Pat Guadagno, who I affectionately in my book named "The troubadour of the Jersey Shore,"  is an amazing vocal talent.  You know you really like an artist when you have their music CD in your car. I'm inspired by Emily Grove, a 22-year-old singer who I watched from the age of 18.  She has a June Carter kind of sound and is a great songwriter. I'm inspired by Marc Ribler, an amazing singer/songwriter and guitarist.  He wrote a great song for Autism for my BEDSTOCK event and performed it live.  He wrote a song for Sandy victims called, "Our Spirit is Strong" and gave all the proceeds to Sandy victims.  He's written TV commercial jingles. I'm inspired by JT Bowen who was the lead singer for Clarence Clemons band for battling alcoholism, finding God, and turning his life around.  I'm also inspired by Clarence Clemons son Nick, who took care of his mother after his dad left and is working hard to leverage his father's legacy and name to run charity events.  He has a great soulful voice.
I worked with Nick to do a fundraiser for Clarence's birthday at Lance Larson's Wonderbar in Asbury Park.  We raised money for two schools at the Jersey shore whose musical instruments were destroyed during super storm Sandy. Tom Doyle, master luthier and guitar player, played with Les Paul and took care of his instruments.  Tom worked with Les for more than 40 years.  I took his luthier class in North West Jersey for about a year and refinished my '63 Fender Jazzmaster. I could go on.  I'm inspired by the music.  I'm inspired by the kindness.  I'm inspired by the charity of so many of these artists who play fundraisers for free when they can barely pay their own rent.
East Coast Rocker:  What did you enjoy the most about producing this book?
RH: Probably the smiles on the artists' faces when they see themselves in it and the admiration of those fans who once they pick it up, can't put it down. I also enjoyed making something that people can enjoy in their living rooms and that benefits the musicians, their fans, and charity.  $5 of every book sale goes to charity.  I've donated almost 100 books to charities for their fundraising events.  The musicians get the book wholesale so they can make additional revenue from doing book signings and selling them to their fans. East Coast Rocker:  What characteristics draw you to a band or solo artist?
RH: I'm drawn to great musicians who are also gracious and generous with themselves and their time.  I like songs with meaning.  In addition to those I mentioned, I appreciate the music of folk singer George Wirth, and the blues music of Kelley Dewkett.  They tell stories that make me think.
East Coast Rocker: What's in the future for you after this book?
RH: I have a passion for leaving the planet better.  I spend the largest share of my life working as a business executive for large corporations, IBM, Warner-Lambert, Pfizer, Johnson & Johnson, and others.  I'd like to spend the next chapter thinking of ways to help address the social and health issues of our times. There are many small non-profits all across America started by people who are passionate about a particular cause who have limited business experience, limited financial means and weak fundraising ability.  There are also a large number of well-funded foundations who work hard to focus their resources on meaningful efforts across the world. Rather than spending large amounts of time trying to raise a few thousand here and a few thousand there for charities, I would like to help the larger well-funded non-profit foundations focus their resources on addressing the social and health issues affecting us today. The top 10 charitable foundations have more than $100 billion in assets.
The Bill and Melinda Gates Foundation has over $34 billion in assets and donates more than $3 billion a year to help causes.  I met Bill Gates and Steve Balmer when I worked as CIO for Pfizer Consumer Healthcare.  They do great work.  The Ford Foundation has almost $11 billion in assets.  The Robert Wood Johnson Foundation has about $9 billion.  I'm thinking I would like to help them invest some of that. I think we should create a TV show that is a cross between the Jerry Lewis telethon and "Shark Tank" for non-profits.  We could bring together some of the top foundations with non-profits needing money to help fund and support specific efforts, and non-profit innovations in technology and new capabilities.  Do it live.  Allow people to donate live online and show the results in real time.  Film the results and share successes live, building a greater sense of community, volunteerism, and support for philanthropy.  If anyone knows how to make that happen, I'm in!
East Coast Rocker:  How do you manage to capture such great shots of the artists?
RH: Thank you for the compliment.  Nikon makes a great camera.  Can I say that?  I also use some great software products from Abobe Systems, Photoshop and Lightroom.
East Coast Rocker:  When meeting a band or singer have you ever been nervous?
RH: Yes. I would say I've been a bit nervous around many great musicians, until I got to know them.  I'm sure he doesn't remember, but I met Bruce Springsteen when I was 19 in a bar called Key Largo in Belmar, New Jersey.  I said hello and introduced myself.  He was great.  I was also nervous when I met Joan Jett, though her warm and relaxed interpersonal style put me right at ease. Richard's book, Great Jersey Musicians is available on Amazon. http://www.amazon.com/Great-Jersey-Musicians-Photographic-Artworks/dp/0988814803/ref=sr_1_1?ie=UTF8&qid=1369163179&sr=8-1&keywords=great+jersey+musicians