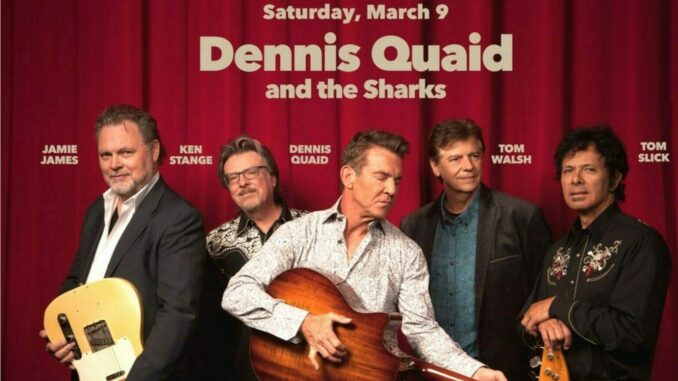 By DONNA BALANCIA
Dennis Quaid the movie star will perform as Dennis Quaid and The Sharks at The Mint in Los Angeles for one night only, this Saturday on March 9.
Dennis Quaid and The Sharks will perform songs off their new album Out of The Box at a special, intimate show at The Mint, where he first took the stage years ago.
"The Mint is where I jumped on stage with Harry Dean Stanton and so it has special meaning to me," Quaid told CaliforniaRocker.com, which presents the show.
Tickets for the show are available via The Mint website. 
Quaid, who recently appeared on stage with Kris Kristofferson and Marilyn Manson (!) at The Ace Hotel in downtown LA, is an accomplished musician who has supported the best in the business.
He's famous for a range of acting roles and TV shows including "Fortitude," in which he plays Michael Lennox, but also films including "A Dog's Purpose," "Yours Mine and Ours," and "The Parent Trap."
Check Out Dennis Quaid's music here: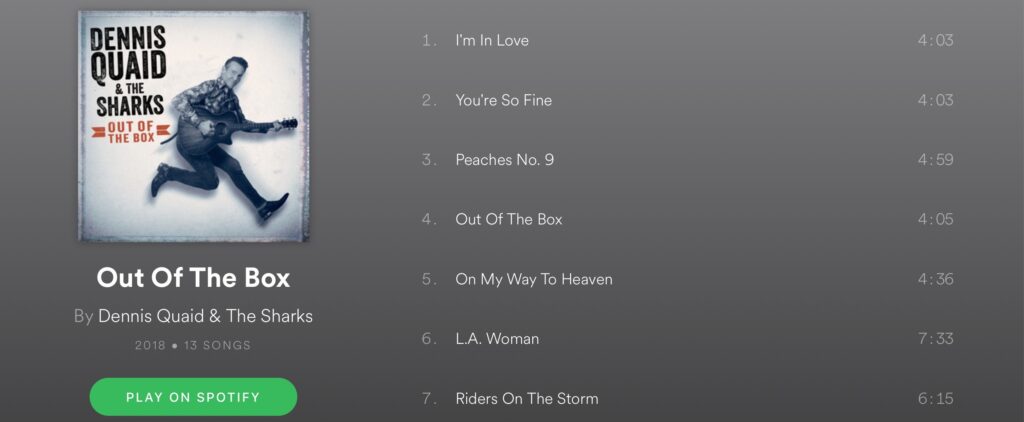 Low Ticket Warning: Dennis Quaid and The Sharks
Buy tickets here to Dennis Quaid and The Sharks at The Mint
Now he's stepping out on his own with the new album Out Of The Box (Omnivore).
The Mint is a cozy venue on the West Side of Los Angeles, and it's a chance to get up close and personal with the very personable Quaid.
Dennis is supported by Natalie Gelman at 8 p.m. and Resurrection Road at 9 p.m.
Check out the California Rocker review of 'Out of the Box' here:
Review: Dennis Quaid and The Sharks Take a Bite of Life with Debut LP 'Out Of The Box'
x