JOHN DALY
Miley Cyrus has joined The Flaming Lips for "We A Famly," off the new album, Oczy Mlody.
It's an odd friendship, but nonetheless Miley Cyrus and Wayne Coyne are wacky musician pals, creating beautiful product. "We A Famly" is the latest collaboration and the single appears on the soon to be released album Oczy Mlody.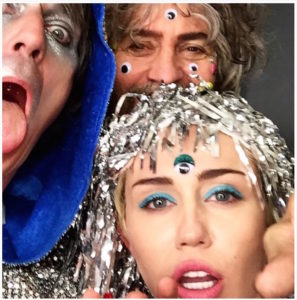 Coyne has written with and for Cyrus, notably on her Miley Cyrus and Her Dead Petz release and Cyrus contributed to the Flaming Lips' With a Little Help From My Fwends.
If you follow either of them on social media it's easy to note the two have similar taste in outfits, in music and in style.
Coyne and The Flaming Lips are scheduled to appear on The Tonight Show Starring Jimmy Fallon to promote Oczy Mlody Tuesday, and who knows who may show up.
The Flaming Lips —  Coyne, Michael Ivins, Steven Drozd, Jake Ingalls and Derek Brown — have released 15 albums in 30 years. Oczy Mlody is due out Jan. 13.