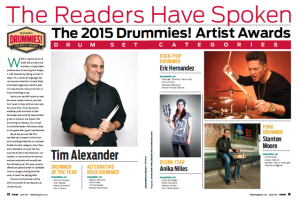 DRUM! Magazine has announced the winners of its annual Drummies! Contest:
Drummer Of The Year: Tim Alexander
Runners Up: Simon Phillips, JoJo Mayer, Kenny Aronoff, Daru Jones
Rising Star Drummer: Anika Nilles
Runners Up: Alex Rudinger, Matt Garstka, Bryan Carter, Eric Hernandez
Rock/Pop Drummer: Eric Hernandez
Runners Up: George "Spanky" McCurdy, Daru Jones, Daniel Platzman, Brian Fraiser Moore
Funk Drummer: Stanton Moore
Runners Up: Chris Dave, Adam Deitch, Robert "Sput" Searight, Terence Higgins
Hard Rock Drummer: Aquiles Priester
Runners Up: Charlie Benante, Glen Sobel, Shannon Larkin, Danny Carey
Alternative Rock Drummer: Tim Alexander
Runners Up: Matt Cameron, Jeff Friedl, Thom Green, Daniel Platzman
Progressive Rock Drummer: Mike Portnoy
Runners Up: Mike Mangini, Gavin Harrison, Matt Garstka, Danny Carey
Extreme Metal Drummer: Billy Rymer
Runners Up: Derek Roddy, Gene Hoglan, George Kollias, Aquiles Priester
Hip-Hop Drummer: Tony Royster Jr.
Runners Up: George Spanky McCurdy, Robert Sput Searight, Lil John Roberts, Greg Clark
Punk Drummer: Brooks Wackerman
Runners Up: Jordan Burns, Brandon Barnes, Jorma Vik, Brandon Pertzborn
Gospel Drummer: Aaron Spears
Runners Up: Teddy Campbell, George "Spanky" McCurdy, Lil John Roberts, Calvin Rodgers
Jazz Drummer: Ronald Bruner Jr.
Runners Up: Peter Erskine, Otis Brown III, Mark Guiliana, Johnny Vidacovich
Blues Drummer: Tony Coleman
Runners Up: Tim Austin, Stephane Avellaneda, Johnny Radelat, Matt Abts
Country Drummer: Sean Paddock
Runners Up: Rich Redmond, Sean Fuller, Chris McHugh, Garrett Goodwin
Studio Drummer: Vinnie Colaiuta
Runners Up: Kenny Aronoff, Matt Chamberlain, Peter Erskine, Nate Morton
Drum Set Clinician: Todd Sucherman
Runners Up: Mike Johnston, Kenny Aronoff, Stanton Moore, Rich Redmond
Percussion Categories
Percussionist Of The Year: Pete Lockett
Runners Up: Daniel de los Reyes, Taku Hirano, Luisito Quintero, Mike Dillon
Rising Star Percussionist: Jhair Sala
Runners Up: Weedie Braimah, Casey Cangelosi, Mona Tavakoli, Rafael Pereira
Latin Percussionist: Alex Acuña
Runners Up: Luisito Quintero, Richie Flores, Pete Korpela, Pedrito Martinez
Rock/Pop/Hip-Hop Percussionist: Mike Dillon
Runners Up: Taku Hirano, Aaron Draper, Terry Santiel, Chastity Ashley
Jazz Percussionist: Nick Mancini
Runners Up: Jamey Haddad, Luisito Quintero, James Shipp, Sammy Figueroa
World Percussionist: Pete Lockett
Runners Up: Zakir Hussain, Valerie Naranjo, Jamey Haddad, Ekendra Das
Studio Percussionist: Alex Acuña
Runners Up: Lenny Castro, Pete Korpela, Kevin Ricard, Richard Bravo
Percussion Clinician: Alex Acuña
Runners Up: Karl Perazzo, Pete Lockett, Gordon Stout, Lalo Davila
Percussion Ensemble: Blue Man Group
Runners Up: Street Drum Corps, So Percussion, TorQ Percussion Quartet, Top Secret Drum Corps
About Enter Music Publishing
Founded in San Jose, California, in 1991, Enter Music Publishing, Inc. is the publisher of DRUM! in print and digital editions, Drummagazine.com, and the Enter Music Network.